Alongside Dodge/RAM and Ford, General Motors is one of North America's largest auto manufacturers, and the parent company to several well-known brands like Chevrolet, Cadillac, and Buick. In honor of the launch of AEC Specialty Vehicles, which will import officially a niche volume of GM's internal combustion engine vehicles to Europe, let's take a closer look at the final member of the Big Three.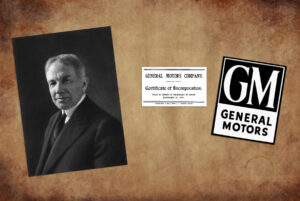 General Motors – or rather its founder, William C. Durant – invented the multi-brand approach in the automotive industry. Now one of America's largest and most influential car dealers, Durant first founded GM in 1908 as a holding company for several brands that he

was acquiring to use synergies for development and production. Among those first brands were Oldsmobile, Buick, and Cadillac.

The ten brands you currently find on GM's website are just a small portion of the countless labels the corporation has owned over the last century.

Since its

inception

more than 110 years ago

, GM has owned a total of 43 different vehicle brands worldwide, including tractor companies, aviation businesses, and their own parts suppliers.

Among those

43 are

well-known former brands, like Pontiac, Oldsmobile, Saab, and Geo, as well as carmakers that lived on in different hands, such as Opel, Vauxhall, or Lotus.

Today, GM actively

operates

10

different brands

, including the core brands of Chevrolet, GMC,

Buick,

and Cadillac.

What do this early 1908 Cadillac and the man on the right have in common? Their name. Cadillac was named after Antoine Laumet de la Mothe, sieur de Cadillac.

Just months after

GM was founded in 1908

, the company

acquired

Cadillac, which had been founded six years

earlier

by former Ford financiers William Murphy and Lemuel Bowen. The

two had

left

the company

after an argument with Henry Ford and

decided to name

their new branc

h afte

r Antoine

Laumet

de

l

a Mothe, sieur de Cadillac, a French explorer who founded the city of Detroit in 1701.

Louis Chevrolet, a French-Swiss car mechanic and racing driver (seated in an early Buick race car, left, and to the left of William C. Durant, right) was the co-founder of Chevrolet. The brand became GM's largest-volume brand. Copyright of AEC 2022, with content from General Motors.

GM's strongest brand, Chevrolet, was founded in 1911 by Durant and an acquaintance mechanic and racing driver, Louis Chevrolet.

Due to his ownership of the brand

, Durant

managed to remain GM's largest stakeholder and thus had

a large influence

on its development.

Chevrolet

, also commonly known as Chevy,

was

ultimately chosen

to become GM's

mainstream marque to compete with Ford's tremendous success in the late 1910s.

It makes sense that a staple of American powertrains like the modern automatic transmission comes from a company like GM. Copyright by AEC, 2022 with content from General Motors and Michael Barera, CC BY-SA 4.0, Wikimedia Commons.

There are many firsts in GM's history. Although not known for proprietary automotive inventions, GM has a few first innovative applications under its belt. In 1939 the company launched the

Hydramatic

transmission for Oldsmobile. It was the first series-built automatic transmission using a torque converter,

similar to

what's

still in use today. With the 1962 Oldsmobile Cutlass Turbo-

Jetfire

, GM introduced the first series-production car with a turbocharger. And in 1966, GM launched the

Electrovan

as a concept car: the world's first hydrogen fuel cell car.

Less is more – Cadillac's marketing team knew that, and decided to focus on their 1912 gamechanger: the first car ever to have an electric starter. Copyright by AEC, 2022, with content from General Motors.

GM's subsidiary, ACDelco, was impressive

in its own right when

it came to ingenious

inventions.

Founded in 1909 to become GM's own parts manufacturing company, ACDelco patented the first battery-based ignition system as we know it today. And

what's

the next

step after

a car battery? The electric starter of course! They invented that, too. The first production car to ever have an electric starter was GM's very own 1912 Cadillac.

A 2015 family photo of GM's famous small-block V8 through some of its iterations. Copyright by AEC, 2022 with content from General Motors.

Chevrolet's small-block V8 is the world's longest-running engine family. The basic engine block of its first iteration

from 19

55

was used

in cars and trucks

practically unchanged

until 2003

. Its successors, although newly developed,

carried over various parts of the old design and

are still in use

to this day. The name

small-block

refers to its small size on the outside when compared to other V8

engines

.

The 1971 Lunar Rover along with astronauts Jim Irwin, Al Worden, Dave Scott, Dick Gordon, Charles Conrad, and Allan Bean (from left to right). Copyright by AEC, 2022, with content from General Motors & NASA.

Since 1908, GM's cars have made it

to the moon and back – literally!

T

he first car on the moon, the 1971 Lunar Rover, was

actually developed

in a GM institute.

Several

NASA astronauts also

drove Chevrolet Corvettes. This was the result of some great marketing, when a large Chevrolet dealer who was also friends with several astronauts convinced

GM's

president,

Ed Cole, to give the celebrity

spacemen

a new Corvette every year.

Reportedly, the

1960s

Houston Space Center's parking lots

often

looked

like Corvette meets.

The 1996 GM EV1 was marketed under the Saturn Brand but was only available through a leasing program. It was a little too successful for the taste of some industry giants and the project was discontinued. Copyright by AEC, 2022, with content from General Motors.

With the introduction of the 19

96

Saturn EV1, GM became the first large-series manufacturer to develop a ready-to-use electric car that was practical and affordable at the same time. Despite its minuscule range of just around 80 miles, it was an instant success.

In fact, it was so successful that after the first trial

s

where vehicles were leased to VIP customers for 12 months,

almost all

EV 1s were crushed due to alleged boycott threats by the oil industries. This bitter reaction is believed to have delayed the success of the electric car by decades.

From its beginnings in 1918, GM produced light trucks as sister models under both the Chevrolet and GMC moniker. Here you can see the 1918 models next to 2022's Chevy Silverado and GMC Sierra. Copyright by AEC, 2022, with content from General Motors and Lars-Göran Lindgren, CC BY-SA 4.0, Wikimedia Commons.

Since their

inception

in 1918, GM's trucks have been built jointly by Chevrolet and GMC. For about 100 years, customers

have been able to

choose various matching truck models by both brands. Although model names have changed countless times, this is still reflected in Chevy's Silverado and GMC's Sierra lineup. Differences between the sister models have always consisted in

small details

, looks, and pricing. Some

variations of those

models

are even offered as Cadillac Escalades.
For a look at AEC Specialty Vehicles' GM lineup, click here.