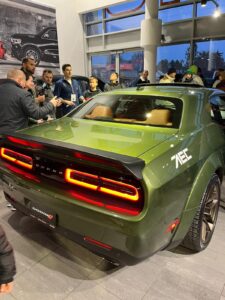 With 807 HP and endless customization options including five different badge designs and personalized effects from the steering wheel to the seatbelts, our AEC Dodge Challenger Hellcat Jailbreak is an expert at stealing the show – and that's just what it did over the weekend in Warsaw, Poland. On Saturday, November 19, the Jailbreak premiered its first unit in Europe at a live event organized by members of our AEC Dealer Network, Centrum Motoryzacji Puławska 516 and Warsaw AmCar Spots.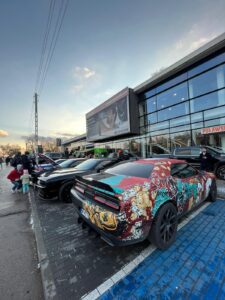 To celebrate the Jailbreak's premiere, our partners pulled out all the stops! Around 120 owners of Dodge, RAM, and other American cars attended the car rally to get a first look at the Jailbreak and see it in action. With its vibrant green finish, classic look, and warpspeed wheels, the Jailbreak definitely stood out in the showroom . As fans examined the car and browsed our exciting lineup of other popular Dodge and RAM models, they were accompanied by a live DJ and could grab bites from a food truck.
The year may be nearing its end, but we're nowhere near stopping. Stay tuned for the latest news on AEC dealer events and product updates, and check out our entire product range or find a local dealer near you.