Earlier this week, we celebrated the start of an exciting new summer with some of our closest partners and team members. On Wednesday, June 22, we welcomed almost 100 European dealers to our largest dealer event to date, AEC Discovery, in Beveren, near Antwerp, Belgium. Our CEO Andrew Pilsworth was also present and shared the latest updates on AEC's growth and expanded portfolio.
At AEC Discovery, a large chunk of our AEC team got to spend some quality time with our dealers, many of whom they hadn't seen personally due to COVID constraints and busy schedules. "What I love most about events like this is that it lets us connect on a more personal level with our dealers, who are our trusted partners. Many of us have worked together for a long time, and a big part of AEC's business comes from the relationships we have developed with our partners. In the last two years, the automotive industry has faced quite some challenges, and we haven't been immune to those. Our dealers are a big part of why we have experienced and continue to see such success and growth. This event is really to show our appreciation to thems and share the latest exciting product updates and expanded portfolio at AEC, that will directly impact their growth opportunities," said CEO Andrew Pilsworth, who had flown in for the event from AEC's headquarters in St. Catharines, Canada.  
AEC's Dealer Network consists of more than 550 dealers worldwide, with partners all over Europe, from the UK and Sweden to Spain and everywhere in between. Some of our dealers have been working with us for 10+ years, while others are relatively new to the network. AEC Discovery allowed us to bring everyone together to reconnect, spend face time together, and catch up – both personally and professionally! 
AEC Discovery kicked off on Wednesday morning at Bebronna, located directly at the port of Antwerp where AEC's Vehicle Processing Center (or VPC) is located with a warm welcome by Anne Bood, Head of Stellantis Sales at AEC and a Q+A panel session featuring CEO Andrew Pilsworth, Sasha Saita, Director of Brand and Product Marcom, Mike Tsesmelis, Director of International Sales, and Daniele Rossa, Director of Aftersales. The informative panel session touched directly and indirectly on points that have been raised by dealers throughout the past few months.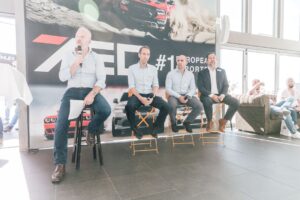 "What we're really here to do today is talk about the progress we've made, share what we're doing currently, and discuss where we're going with our new, expanded portfolio," Pilsworth explained, before announcing the latest additions to AEC's product collection. Following the panel, the dealers toured AEC's VPC for a behind-the-scenes look at the state-of-the-art facility, before returning to Bebronna to hear about the latest product developments from AEC and get a firsthand look at our cars.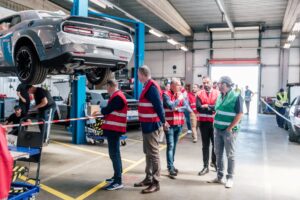 We had so much fun connecting with such a large group of our European dealers at AEC Discovery and sharing the latest updates that will allow us all to keep growing and thriving as one team. A big thank you to all our dealers who made the journey to meet us in Belgium and spent the day with us – we're happy to have you on board and are looking forward to seeing you again, soon!