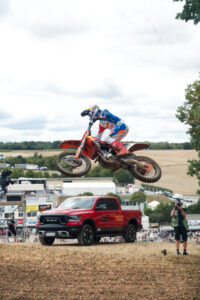 Summertime is a great time to hit the road in one of our RAM pickups in search of an adventure. This past summer, we decided to take that to the next level by bringing our RAM 1500 TRX and RAM 1500 Rebel on the ultimate adventure: the Red Bull KTM Factory Racing Tour.  
Earlier this year, we partnered with RAM and KTM to team up at championship motocross races across Europe during 2022. As Europe's largest importer of Dodge and RAM vehicles, AEC provided several RAM 1500s to display at the races not only on the track but in the Paddock area for visitors to check out the trucks firsthand. With its immense towing capacity, top power and performance, and plenty of space for people and luggage, the RAM 1500 is the perfect travel partner for KTM's racing program.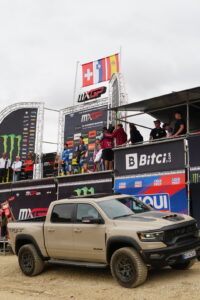 Between July and October, some of our AEC colleagues traveled to different events with our RAMs, attending three types of intense competitions: the FIM MXGP Motocross World Championship, the FIM Enduro World Championship, and the FIM Hard Enduro World Championship. The team was able to connect with fans, network with our dealers, and showcase our AEC products.   
After months of hard work, the 2022 AEC x RAM x KTM season has now come to a close, and we can label it a true success! Our RAM 1500 models stole the show at races throughout Europe, and were eagerly visited by fans, partners, and racers alike. This new partnership was a great way to break into new markets, develop and foster relationships, and let people know about AEC's exciting product range. We can't wait to see where our trucks end up next!