With more than 100 participants from across Europe, we held our annual AEC Dealer Awards virtually again this year, honoring the leading business partners in our Dealership Network of more than 150 members. 
AEC's COO, John R. F. Muratori, congratulated AEC's industry partners on a successful 2021 despite significant challenges: "As our direct and trusted connection to the consumers, all our dealers have really stepped up in 2021 despite incredible challenges, whether they be the ongoing obstacles presented by COVID-19, production challenges, supply chain issues, or new pricing from the OEM. So, what we are highlighting and celebrating today is the adaptability of our dealers across all markets during difficult times for the automotive industry."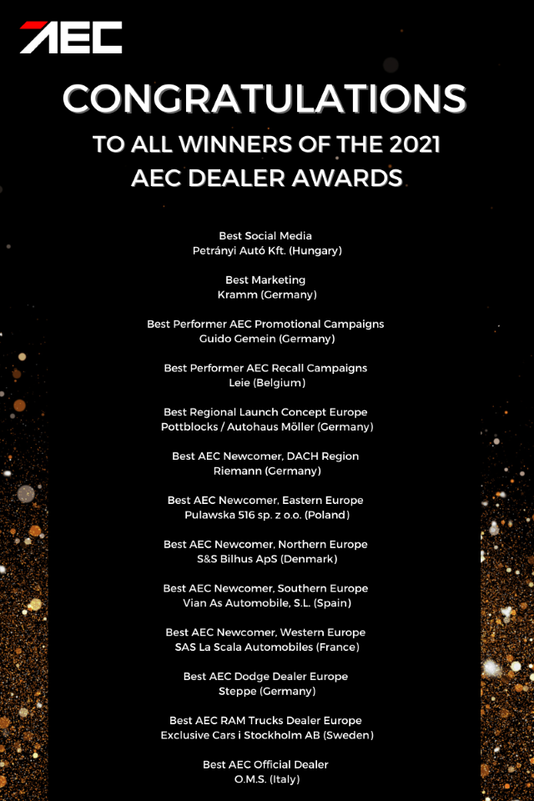 We are thrilled to share the 13 winners of the 2021 AEC Dealer Awards: 
Best Social Media – Petrányi Autó Kft. (Hungary) 
Best Marketing – Kramm (Germany) 
Best Performer AEC Promotional Campaigns – Guido Gemein (Germany) 
Best Performer AEC Recall Campaigns – Leie (Belgium) 
Best Regional Launch Concept Europe – Pottblocks / Autohaus Möller (Germany) 
Best AEC Newcomer, DACH Region – Riemann (Germany) 
Best AEC Newcomer, Eastern Europe – Pulawska 516 sp. z o.o. (Poland) 
Best AEC Newcomer, Northern Europe – S&S Bilhus ApS (Denmark) 
Best AEC Newcomer, Southern Europe – Vian As Automobile, S.L. (Spain) 
Best AEC Newcomer, Western Europe – SAS La Scala Automobiles (France) 
Best AEC Dodge Dealer Europe – Steppe (Germany) 
Best AEC RAM Trucks Dealer Europe – Exclusive Cars i Stockholm AB (Sweden) 
Best AEC Official Dealer – O.M.S. (Italy) 
The top performing dealers will be considered official AEC Dealer Ambassadors, acknowledging their significant efforts and leadership in the past year.