Throughout the last century, Dodge has become the leading name in terms of muscle cars. As Dodge begins the final production of its iconic Charger and Challenger with its Last Call initiative, we decided to take a closer look at the two ultimate muscle cars. The Dodge Charger and Challenger may share a common platform, but the two American classics differ significantly. Read on to see how these headliners are similar, and the crucial ways in which they differ…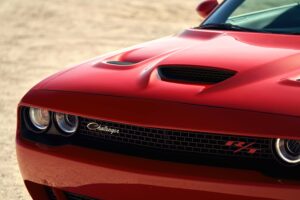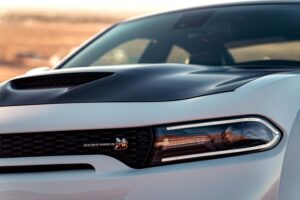 Aside from the number of doors each car has, the Charger and Challenger have their own unique exterior designs. Slotted headlights and a one-piece taillight highlight the Charger's modern approach, while the Challenger takes a more retro look with four round lights in the grille and two oval taillights. A wedge or scallop in the doors of the Charger helps contrast with the Challenger's plain side panels.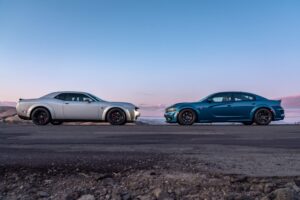 Purely on size, the Charger wins here. The Charger is longer than the Challenger, with a maximum overall length of 201 in / 510 cm versus 197.5 in / 501 cm, depending on the model. The same goes for the wheelbase – 120 inches (305 cm) versus 116.2 inches (295 cm). It's worth noting, however, that the sedan weighs only 100 pounds (45 kg) more than the coupe.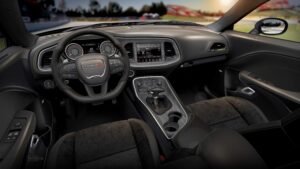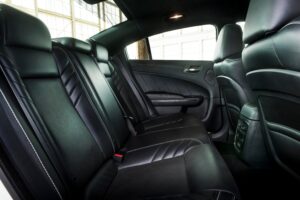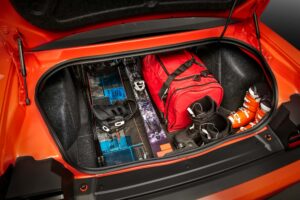 The Challenger is a two-door coupe, while the Charger is a four-door sedan with a generous trunk and cargo area, so the Charger obviously offers more space for riders. However, it's worth nothing the Challenger does offer plenty of room for rear-seat passengers. Both models actually seat five passengers each. Rear legroom in the Charger is significantly better at 40.1 in / 101.8 cm compared to 33.1 in / 84.1 cm in the Challenger. In terms of trunk space, the Challenger surprises with 16.2 cu.ft. to the Charger, which has only 16.5 cu.ft., so only slightly more volume.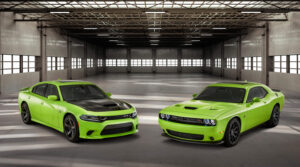 The car itself is just the beginning: both the Challenger and Charger have several variations like SXT, GT, R/T, Scat Pack, each which have different features. In model year 2023, the Charger is currently available in seven different models, the Challenger in ten. Eighteen different exterior colors are offered on both models, including the popular Retro- or High Impact paint finishes. 
The actual features of the Challenger and Charger are quite similar. Both models have an in-car entertainment system with a large touch display, smartphone integration, hands-free phone system and voice control. There are different climate control systems and different seat colors and upholstery. Both models offer modern driver assistance features with many different safety systems such as Blind Spot Monitoring System, Full-speed Forward Collision Warning with Active Braking, LaneSense Lane Departure Warning System. Both models also feature the ParkView Rearview Camera and the available ParkSense Rear Park Assist System.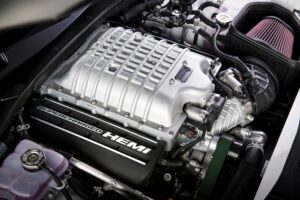 Not only are there several trim levels for the Dodge Challenger, but there are multiple engine options as well:
– 3.6-liter V6 engine with 303 horsepower (SXT/GT).
– 5.7-liter Hemi V8 engine with 375 horsepower with manual transmission and 372 horsepower with automatic transmission (R/T)
– 6.4-liter V8 engine with 485 hp (Scat Pack)
– 6.2-liter Hellcat V8 engine with 717 hp (SRT Jailbreak / SRT Hellcat)
– 6.2-liter Hellcat V8 engine with 797 hp (SRT Hellcat Redeye)
– 6.2-liter Hellcat V8 engine with 807 hp (SRT Super Stock)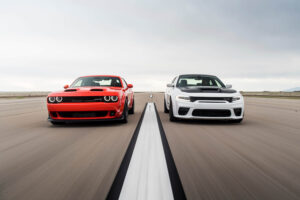 The Dodge Charger also offers several trim levels as well as several engines:
– 3.6-liter V6 with 292 hp (SXT)
– 3.6-liter V6 with 300 hp (GT)
– 5.7-liter hemi V8 with 370 hp (R/T)
– 6.4-liter V8 with 485 hp (Scat Pack)
– 6.2-liter Hellcat V8 engine with 717 hp (SRT Hellcat)
– 6.2-liter Hellcat V8 engine with 797 hp (SRT Hellcat Redeye)
An eight-speed automatic transmission is the only option for the Charger, while Challenger buyers can opt for the automatic or a six-speed manual. Rear-wheel drive is standard, but all-wheel drive is also optional with the base engine.
Let's get to the good stuff: how do these two powerhouses differ in performance? There are some modest differences in driving performance between the Charger and Challenger, but nothing significant. The Charger Hellcat (797 PS), for example, reaches a top speed of 203 mph (327 km/h) and accelerates from 0 to 60 mph (96 km/h) in 3.6 seconds, while the Challenger Hellcat (797 PS) can reach also 203 mph (327 km/h) but is 0.20 seconds faster to 60 mph (96 km/h). However, currently the 807 horsepower Dodge Challenger SRT Super Stock is the world's quickest and most powerful Muscle Car with 0-60 mph (96 km/h) acceleration of 3.25 seconds and 168 mph (270) top speed (tire-limited) – that's got to count for something.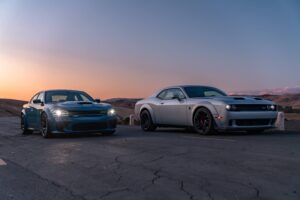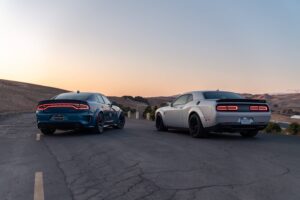 When it comes to price, it's no surprise that both of these bad boys cost a pretty penny. The Dodge Challenger is cheaper than the Charger, but not by much. When it comes to AEC models, all AEC configurations come with a default level of equipment options, so prices are as equipped. Check out AEC's pricelist for the latest pricing here.
At the end of the day, the Charger and Challenger each serve their own distinct purpose. While the Charger is a typical family sedan for many American buyers, the Challenger gives you that more classic muscle car look. The Dodge Charger may have advantages in terms of interior space and comfort, but the Challenger is a touch sportier. Interested in seeing which car is right for you? Visit one of AEC's 550+ dealers in Europe to get your hands on one today.