This month, Europe's largest car magazine "AutoBild" talked to our CEO and industry expert, Andrew Pilsworth, about his view on the electric future of muscle cars because as Europe's largest importer of American vehicles, we of course have an opinion on powerful and highly capable cars. Read more about how this is revolutionary, and nothing new at the same time. 
It certainly was great news when Dodge CEO Tim Kuniskis announced last November that from 2024 on, the famous Dodge models Charger and Challenger will use an electric powertrain. While this sounds exciting, it is also a big change from the traditional muscle car setup that so many fans know and love to this day.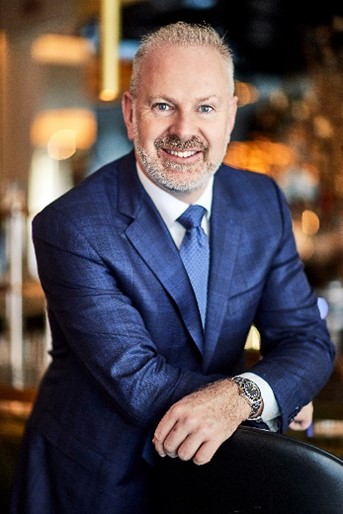 Since this topic is important for many customers and fans, the German weekly car magazine AutoBild reported on the EV future of Charger and Challenger and wanted to get Andrew's expert opinion. Check out the current AutoBild issue (3/22) on page 54 for the German feature and find more of his insights here: 
Andrew, what do you think about this plan? 
As the official importer of Dodge and RAM vehicles in Europe, AEC of course is thrilled about the plans to introduce exciting and powerful EVs under the coveted Charger and Challenger nameplates. Last year we have sold our first EVs, so this is a great start into the new EV era for AEC. As an automotive solutions provider, we are specialized in adapting vehicles for sale in global markets and muscle cars are a large part of our business portfolio. In case of Dodge and RAM, it's all about excitement and the differences to more conventional European cars. Our customers love how the cars look and feel, how they sound and perform, but also their practicality and how affordable they are compared to other cars in their segment. Most of these features are unique to muscle cars like the Charger and Challenger, and I'm convinced that a modern electric powertrain will continue to deliver this very special kind of satisfaction while also supporting the transition to a more sustainable industry. We see the new EV versions as a perfect chance to showcase the flexibility and adaptability of our AEC infrastructure, setup, and our great team. Our AEC network of more than 500 global dealers will get all the training, support, and technical framework they need to keep up their high-quality work and service. We already took first steps by launching our AEC Academy program for our dealers this winter. 
What would be the strengths and (perhaps) weaknesses of an electric muscle car? 
Since the beginning of the muscle car, it's always been about performance. The concept of combining a practical car that you can drive every day with a tremendously powerful engine and a sexy design is at the core of this whole concept. To this day, our models boast some of the most impressive performance and torque figures on the market. Modern electric vehicles can offer the same amount of power, or even more. Additionally, they benefit from instant torque right from the start, so every drag racing enthusiast will be more than satisfied. Thinking back to the old "Race on Sunday, sell on Monday" motto, a more practical and more sustainable muscle car will attract more customers than ever before. EV powertrains take up a lot less space and offer a quiet, dependable, and above all efficient way of transportation. EV architecture also allows for entirely new and modern design characteristics, due to the lack of large cooling openings, or a big engine compartment. 
Of course, many customers will miss the characteristic sound of a large V8 engine, but I'm sure that our AEC engineers will find an ingenious solution for a more than adequate substitute – fully compliant to European legislation of course! 
Why have both models been fascinating over many decades now? 
Both Charger and Challenger have always thrilled me with their sensory attributes. Even today's models offer a sense of nostalgia that is unrivaled by anything else. Their unique design reminds me of the early days of muscle cars, that deep rumble when you start the engine, and the sheer fact that they've always been bedroom-wall poster cars that you can drive each and every day is a combination that nothing else can offer. When we started our company back in 1996 in Canada, the SUV craze had just begun. Muscle cars were a romantic dream of the past, and performance models came from Europe or Japan. When they were re-invented years later, we immediately received a lot of interest in American muscle cars from all over the world. Then in 2011, we became an official importer of Dodge and RAM in Europe. The models – although replaced and refreshed many times – haven't changed much since then. Neither did the tremendous interest for them that helped us grow into the global automotive solutions company that we are today with 170 employees in 7 locations. So, they're not only dream cars for millions of people but also a hallmark of our company's success, and the romantic dream of the past will become a certain success for a more sustainable future. 
What does that future look like? 
Well, we don't have a crystal ball to tell us, but there are a few things in the automotive industry that will probably never really change. When the first real automobile was invented in the late 19th century, it was up to prove its speed against a horse and cart right off the bat. The first known car race was held as early as 1894. What that has to do with today? Easy: The most technically advanced EVs – most efficient, highest range, and so on – are also the ones with astonishing performance figures. This is also where we'll see the electric Chargers and Challengers. They will be the bedroom poster cars of today and tomorrow. And much like it used to be with old-school sports and muscle cars, their innovations will trickle down to more affordable models very soon after. So, they will help accelerate the shift to emission free mobility. We can also bear in mind that the original muscle cars in the 1960s, weren't super expensive. It was about affordable power – another thing that has not and will not change, since affordability is still a big goal in EV development. 
Andrew Pilsworth, President and CEO founded AEC back in 1996. Undoubtedly, his large network and 25+ years of automotive experience put AEC on the A-list of vehicle and parts manufacturers worldwide. Andrew holds a bachelor's degree in geography from Carleton University. He enjoys collecting antique automobiles and traveling to places he has never been before.