When you compare the United States, homeland of the pickup truck, and Europe, you'll notice a big difference in the vehicles that people drive. While pickup trucks are a staple among laborers, construction workers, repairmen, and the like in the U.S., similar European businesses tend to use vans and small transporters. Let's find out why one of our RAM pickup trucks may be the best fit for you and your business, regardless of location. 
Like many things, the relationship between certain types of cars and particular industries was born out of necessity. In the United States, the Great Depression at the end of the 1920's saw people forced to convert their personal cars into small pickups by placing utility beds on the vehicle's frame behind a small cab for driver and passenger. This concept was soon picked up by manufacturers. In Europe, it wasn't until after World War 2 that Volkswagen created the Transporter, their version of a van or open truck that shares most components with regular Volkswagen cars. Both the American and European approaches were so practical that they're still in use today in various shapes and sizes and across brands. The question is just: why are they still so location-dependent? 
One reason that instantly comes to mind is quite simply, size. Locations in North America are frequently farther apart, making for much larger driving distances than in Europe. As a result, larger vehicles with more capacity made sense for the U.S., whereas driving through Europe's older cities and smaller stretches required more practical solutions. Despite European distances being closer together, however, European transporters did grow in size as well. Some of today's most common Sprinter class vans even outsize a full-size pickup truck! And although they can be seen in cities, you'll still find most of them on long-distance journeys out on the highway. So why not go for an American truck?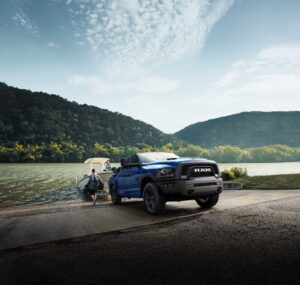 The most common answer we get to that question is price: many Europeans are wary of getting a large pickup truck because they assume they are way too expensive to buy, run, and maintain. If you actually browse through a car configurator and put together a European transporter with comparable amenities and options, though, you'll quickly see that in a lot of cases, our trucks weigh in at 30-40% cheaper. And while leather seats and navigation systems may be viewed as luxuries, our RAM's enormous capabilities are nothing to gloss over. Compared to a Volkswagen Transporter and other similar vehicles, the engine power is often doubled, and all RAMs can tow over a ton more than the leading European competition. Plus, with European models, you have to decide between a luxurious cabin or a usable pickup bed. A RAM always gives you both – all while being up to 40,000 Euros cheaper, depending on the market.
Another question we hear frequently is fuel consumption. A larger vehicle needs a lot more fuel, right? The difference is actually not as big as you might think. Modern technology, like cylinder deactivation and active aerodynamic structures, help RAMs achieve a very reasonable fuel economy. On top of that, we deliver most of our RAM trucks with alternative fuel conversions – first and foremost using LPG. Short for liquified petroleum gas, LPG uses a byproduct of petrol production that burns cleaner and more efficiently than all other fossil fuels. It's also cheaper to make and is tax-subsidized in many countries. At the end of the day, you end up with a fuel bill that is about the same as that of a mid-size diesel-running car – and in many cases less than what European transporters consume. 
In many commercial applications, it can be a more sensible choice for most businesses to go with a RAM truck than with a European transporter, even in the long run. With strong engines that don't require turbocharging, maintenance is much cheaper. Another selling point for RAM is that they are taxed as a light commercial vehicle in most European countries, meaning you'll save big on taxes as compared to regular cars. And with almost 160 official AEC RAM dealerships throughout Europe, finding a reliable service partner is a breeze, too.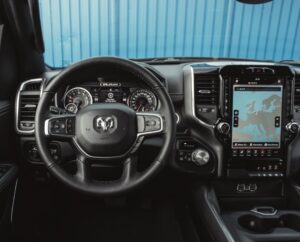 Our customers have experienced the countless benefits of doing business with a RAM instead of their European counterparts, whether they have businesses in construction, landscaping, craftsmanship, or towing, just to name a few. All of them have their own ways of utilizing their RAM to the fullest extent, be it with accessories like caps, bed rack systems, covers, or organizers – all offered as part of our vast parts and accessory program. Let's not forget that purchasing a RAM isn't only a business decision: a RAM is the perfect vehicle to use outdoors on your off-time.  
Special Tip: AEC also offers dedicated outdoor accessories to fully unlock your RAM's potential when it comes to sporting, camping, or leisure trips. 
More and more people outside of the United States are turning to RAM trucks to support their business needs. Our ongoing sales growth over the past years shows just how much they are growing in popularity here in Europe. Find out which of our models would suit you best at one of AEC's 160+ dealerships.