There are few things more quintessentially American than a road trip: with its wide plains, monumental landscapes, and open roads, the world's fourth-largest country is just made to be explored by car. And when you're about to embark on a cross-country adventure, there's no better vehicle to hit the road in than a classic American truck, like the RAM 1500. With its powerful engine, premium performance, and off-roading capabilities, the RAM 1500 is the perfect partner to take you wherever the road may lead – but does that hold true in Europe, too?
It's probably one of the most common phrases we hear when people learn we import American classics like the Dodge Charger and the RAM 1500 to Europe: Can you even drive those there? Our answer? Heck yes, you can! At AEC, we don't just talk the talk, though – we say what we mean, and we do what we say. So, this summer seemed like the perfect time to prove what we've been saying all along: the RAM 1500 is the ideal road trip partner, be it in the U.S., Europe, or beyond. So, we sent one of our colleagues, Sebastian, on an international road trip across Europe in our biggest RAM to show us how it's done.
Day 1: Auf Wiedersehen, Deutschland
Sebastian's road trip began on September 11, when he took off from AEC's office in Munich, Germany, headed for Girona, Spain, where AEC was set to celebrate our 25th anniversary!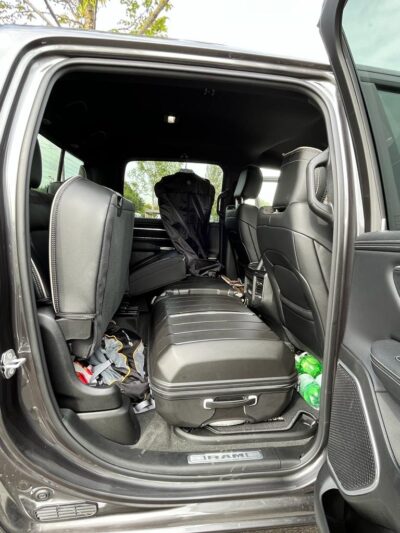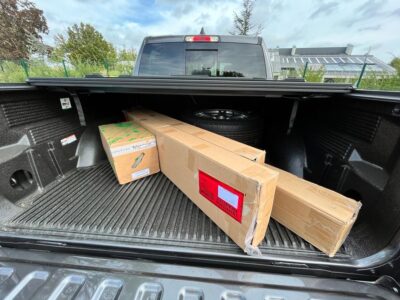 The trip would be a total of about 1,270 kilometers, or 790 miles. Before leaving, he took advantage of the RAM's spacious expanse, filling it to the brim with road trip gear, luggage, and anything else he may need along the way.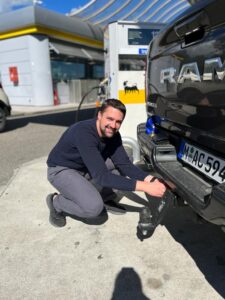 Before he could get going, Sebastian stopped to fill up the tank with LPG. When thinking about a RAM, you're probably not thinking about fuel efficiency, but in AEC's effort to find better ways, we've found a way to increase the RAM's fuel capacity and save money, all in one.
Once our vehicles arrive in Europe, they're first sent to our Vehicle Processing Center in Belgium, where our team of homologation experts prepare each RAM's engine for E85 fuel or liquid petroleum gas (LPG), depending on its final customer and destination. LPG is a byproduct of gasoline and diesel production that burns exceptionally clean.
Sebastian filled up his tank at one of the many LPG stations in Germany and took off towards his first destination: Lake Geneva, Switzerland. During the journey, he broke his personal record: making 900 kilometers on a single 90 Liter tank!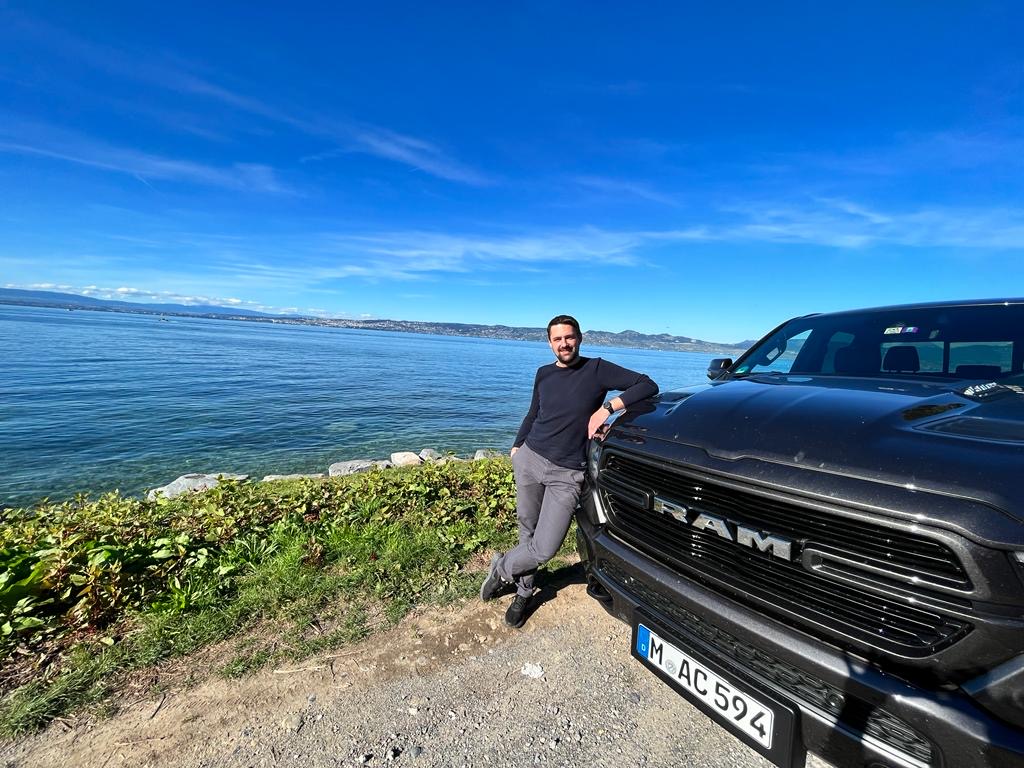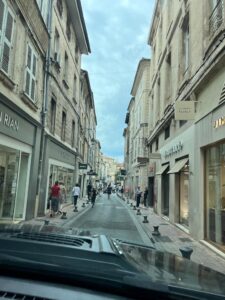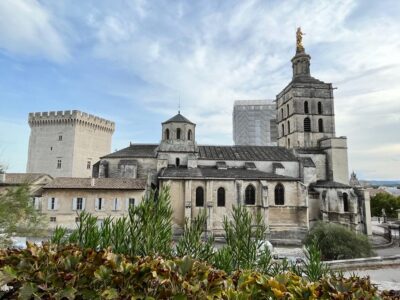 Day 3: Cruising Through France
After some seaside relaxation in Switzerland, it was time to depart again – this time, for France. Sebastian first stopped in Lyon before arriving in Avignon, France, a medieval gem located in southeastern France. Contrary to what some people may think, the RAM did indeed fit inside the city's ancient streets – as Sebastian put it, the RAM is simply unstoppable!
Day 5: Final Days in France
From Avignon, Sebastian headed west towards Montpellier, an easy 100-kilometer or 60-mile journey. The drive itself went smoothly, and no wonder why. The RAM 1500 is designed for first-class comfort for both pilot and crew. The premium leather-trimmed bucket seats with electric functions, together with the distinctive materials of its interior, give the RAM 1500 a luxurious feel. Not only that, but the RAM 1500 comes equipped with frame-mounted active-tuned mass modules and available interior noise cancellation system. These features reduce ambient sound and preserve interior quiet allowing Sebastian to tune out the highway wind resistance with ease.
Not all is well in vacation mode though: there are indeed some factors that impact a RAM's ability to get around as easily as in the U.S.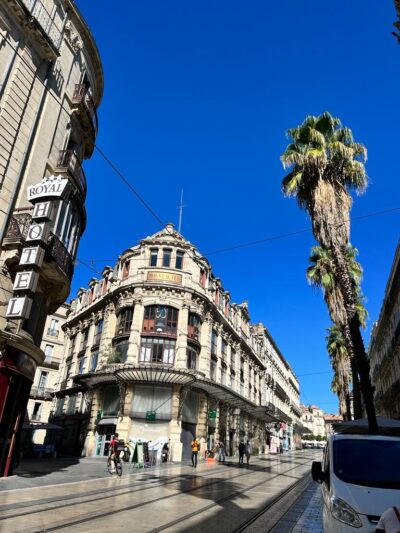 Throughout Europe, bigger cities have enacted green zones in the city centers which prohibit or limit the driving of cars. Some green zones allow cars, but only those up to a certain size. Montpellier, for example, had many parking lots with height limits of 1.90 meters. In Europe, however, that's rarely a problem: Sebastian simply parked outside of the green zone limits with the help of the Parksense® Front and Rear Par-assist features and the surround view camera and headed into the city via tram – as opposed to the U.S., public transport is usually never an issue in European cities.
Day 7: Coastal Cadaques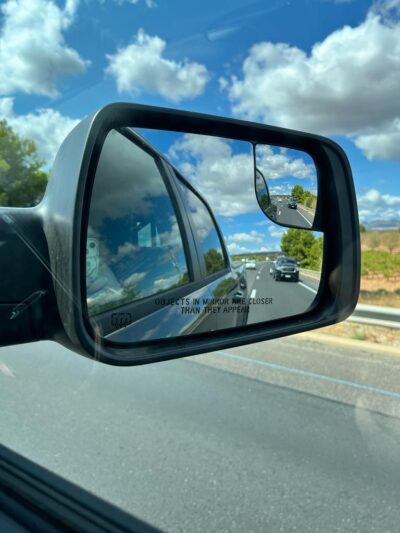 On the 250-kilometer journey from Montpellier to Cadaques, Spain, Sebastian saw another German RAM on the road! It seems he wasn't the only one who decided to explore Europe from the back of a pickup truck.
Cadaques, a town of about 2,000 inhabitants, is located on Spain's Costa Brava, a couple of hours north from Sebastian's final stop of Girona. While beautiful, this tiny town proved the trickiest for our RAM, and the narrow roads, typical for an older coastal town, required some careful maneuvering on Sebastian's part to make it out unscathed. A little patience was all it took though, and Sebastian made it out with the RAM (and his nerves) in one piece.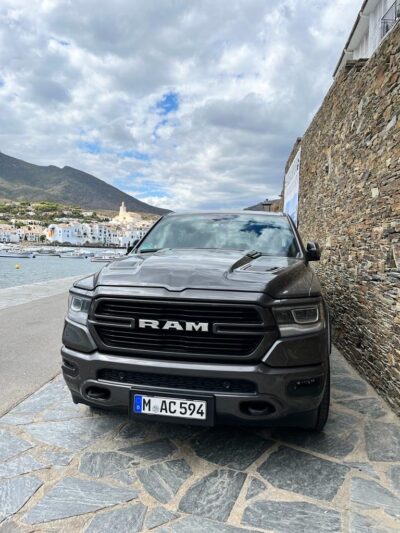 Day 8: Almost There
Early the next morning, Sebastian drove an hour south to Santa Susanna, a larger town on the Spanish coast. A bigger town used to tourists, the RAM had no problems exploring the ins and outs of the area. The only problem the RAM encountered? The hotel's parking lot had a height limit, so Sebastian ended up parking in front of the hotel on the street – nothing a RAM can't handle.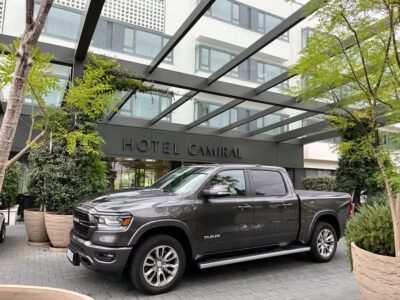 Day 9: The Final Stretch
The RAM set out bright and early the next morning, making a quick stop in Barcelona, where Sebastian parked the RAM outside the city's green zone limits and entered using public transport. He then set out on the final hour-long trek before arriving in Girona, at the Hotel Camiral, where he joined AEC's global team for a special event celebrating 25 years of AEC.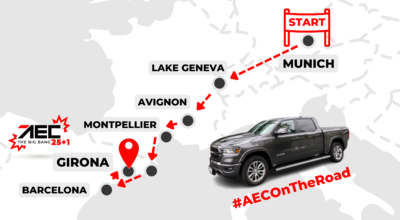 So, is a RAM really drivable across Europe?
After following along with Sebastian's exploits for a week, we turned to him to answer this question – he's a road trip expert now, after all. For those of you considering embarking on a European road trip in your RAM or wondering whether you really can have your dream American car while living in a European city, take it from Sebastian himself.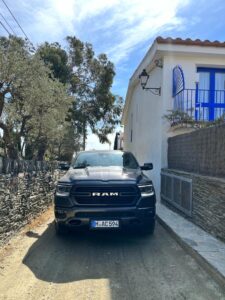 "It all worked out great! The RAM is really the perfect car for a road trip like this. I wouldn't want to drive this far in a smaller car or stay away from home longer than a few days if I didn't have as much storage space. When it comes to driving, on open highways and in larger cities, there's absolutely no problem driving with a RAM. In small towns, it can be nerve-wracking getting around the tight corners, but we just had to be careful. Parking can be a problem, but that's true for most cars since old European cities weren't really built for vehicles to begin with. One issue that the RAM faced is parking garages. Some parking lots have height limits, which the RAM usually couldn't fit under, so we had to park elsewhere, like the many camper vans you see regularly on the roads across Europe.
Another thing you have to be aware of is cities with green zones, meaning bigger cars aren't allowed in the city center. This wasn't a problem for us at all, but you will have to account for more time as you have to park outside the city and find a different way downtown like public transport. You may want to check in advance if the city you're headed to has restrictions in certain areas.
Something I was pleasantly surprised by was the people. Everywhere we went, people were excited to see the RAM, oftentimes even taking pictures of it! Fuel efficiency wasn't a problem either – with AEC's LPG models, you can go for long stretches without having to stop for gas. I broke my own personal record on this road trip, clocking 900 kilometers before having to fill up!"
You heard it here first, then – wherever you're headed, the RAM 1500 is the perfect partner. Find a dealer near you to get your very own RAM and get started on planning your next road trip!