The American car brand Dodge has appeared in many movies and TV series over the years, so much so that many of us have come to associate certain films, locations, or characters with the iconic American car. Whether it's Al Bundy in Married… with Children or crime shows like NCIS, sometimes even entire series like Viper became interchangeable with a certain model. To highlight the role that Dodge has played on the silver screen, we've compiled a list of some of the most important and coolest Dodge movie cars – have you seen them all?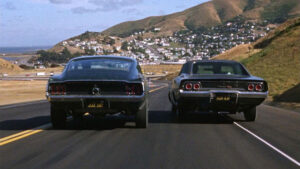 1. Bullitt 
The black 1968 Dodge Charger driven by the bad guys in Bullitt is the reason why second generation Chargers, especially second-generation black Chargers, are Hollywood's favorite muscle cars. The Charger, fresh off the showroom floor except for the factory hubcaps and whitewall tires, was driven by stuntman and actor Bill Hickman and chased by Steve McQueen in his Highland Green Mustang Fastback. It's one of the greatest car chases ever filmed as the two muscle cars race through San Francisco, catching their breath on the city's famous inclines. Both the 440 Mopar and the 390 Mustang have become legends, but it's the Charger that has since influenced the movies of the last 50 years.
Check out more intriguing facts about the Dodge Charger!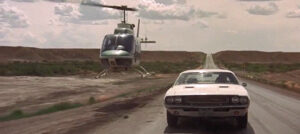 A 1970 Dodge Challenger R/T – white, with a 440-ci V8 and four-speed transmission – is driven at full throttle through the Southwest by a pill-popping ex-cop named Kowalski who has little left to live for in Vanishing Point, one of the best road movies of all time. Even the E-body's Colorado license plate, QA-5599, has become iconic in the Mopar community. Chrysler loaned the studio four vehicles for filming, three with the 440 four-cylinder and four-speed transmission and one with a 383-ci engine and automatic transmission. They were all badly abused during production and subsequently returned to Chrysler and scrapped. The car destroyed at the end of the movie was not one of them – it was a 1967 Chevrolet Camaro filled with explosives.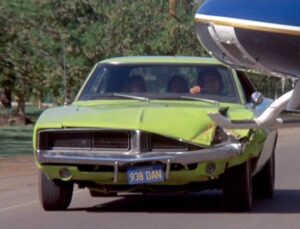 Long before there was Bo and Luke's General Lee, there was the 1969 Dodge Charger from this chase movie starring Peter Fonda. To make sure the car stood out from the screen, it was painted "Citron Yella" or code GY3, a high-impact Dodge color from 1971. To complete the street machine look, there's a black stripe running the length of the flanks and 440 badging on the Charger's side panels. Oversized tires on drop center rims gave the Dodge the perfect appearance. Several cars were used for filming and were destroyed in the process.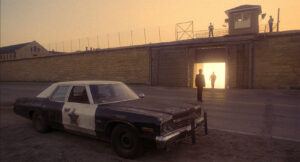 The legendary Bluesmobile driven by Jake and Elwood Blues in The Blues Brothers is a former police car – a 1974 Dodge Monaco. Why a 1974 Monaco? According to Dan Aykroyd, the film's co-writer and co-star, it was "the hottest police car in America at the time." According to Elwood, however, the car was chosen because it has a cop engine, a 440-ci engine. It has cop tires, a cop chassis and cop shocks. It's a model built before catalytic converters, so it runs well on regular gasoline. One of the unforgettable scenes of the film is the chase through a shopping mall. 13 identical cars are said to have died for the shoot.

5. Blade 
In this 1998 vampire movie based on the Marvel comics of the same name, the hero Blade, played by Wesley Snipes, fights vampires behind the wheel of a 1968 Charger. The Dodge stands tall on a set of big tires and centerline aluminum rims. It also wears a removable fiberglass hood and a large 440 Six Pack hood from a 1969 Road Runner. Mounted behind the grille are a pair of auxiliary headlights and a set of old-school traction bars. Basically, the coupe looks like a Street Machine from the eighties.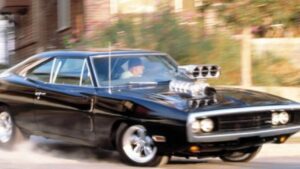 Although a black Dodge Charger appears in most of the franchise's films, the first version of the car from 2001 is still one of the best. The black 1970 pro-street style model is the personal vehicle of Vin Diesel's character Dom Toretto. A Hemi V8 with supercharger protrudes from the hood. The supercharger was purely there for visual effect, as it was not functional to connected to the engine. Other modifications include a roll cage, which comes in handy in the final scene, and polished Torque Thrust-style wheels.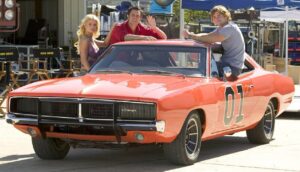 Bo and Luke Duke's 1969 Dodge Charger first appeared on television in 1979 and has since become one of Hollywood's most famous vehicles. In the 2005 movie, there are even two variants of the "General Lee" Charger. At first, it appears as an orange rust bucket with a sloppily painted "01" on the doors and black steel wheels. After an accident, however, it becomes the "General Lee" with distinctive graphics, bright orange paint and American Racing Vector wheels. Variations on the Charger from the TV series include tires with white letters and a wooden steering wheel. Driving action includes burnouts, driving on two wheels, drifting, and of course jumping – yeehaw!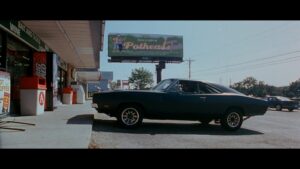 8. Death Proof 
In this 2007 action film starring Kurt Russell, writer-director Quentin Tarantino pays tribute to earlier Mopar classics. The big car chase takes place between a white 1970 Dodge Challenger, similar to the one in Vanishing Point (1971), and a 1969 Dodge Charger wearing American Racing Vector-style wheels, just like "General Lee" from The Dukes of Hazzard (2005). Unlike Bo and Luke's Dodge, however, the Charger in Death Proof is finished in matte black. Other modifications include a roll cage and a large radiator mascot in the shape of a cigar-smoking duck made famous by the 1978 trucker movie Convoy.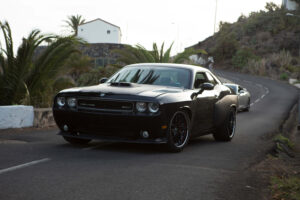 Ever since Dom (Vin Diesel) and Brian (Paul Walker) brought down a gangster's empire with their Rio heist and left their crew with $100 million, our heroes have been scattered around the globe. The Dodge and SRT (Street and Racing Technology) brands officially supported the Fast & Furious 6 movie with a 2012 Dodge Challenger SRT8 driven by the film's hero, Dominic Toretto, in various chase scenes. Toretto also drives a 2012 Dodge Charger SRT8 and a 1969 Dodge Daytona.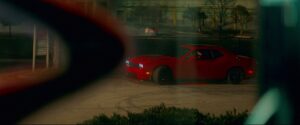 10. Baby Driver 
There are some nice rides in this police and robbery movie about a good-natured getaway driver who likes to listen to music while he drives, but there's some serious action in a red 2017 Dodge Challenger – Hellcat or SRT model – with an automatic transmission. The action in this movie includes a monster burn-out and plenty of power slides.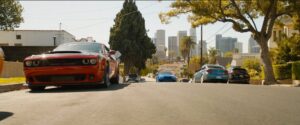 11. F9 
In the ninth installment of the Fast & Furious series, a 2021 Dodge Charger SRT Hellcat Widebody stars alongside Dom Toretto's classic 1970 Dodge Charger, loosely based on the motto "Fast & Furious' heroes don't wear caps, they drive muscle cars." That's not the end just yet though – FastX, the tenth film in the series, will hit theaters this year – stay tuned for some more awesome Dodge scenes! 
All around the world, Dodge's cars have become a symbol of cool – but everything comes to an end: Dodge has announced their Last Call for these iconic muscle cars. If you've always wanted to drive one of these bad boys, now is your last call to make it happen! Check out our new 2023 AEC lineup of Dodge vehicles, which includes the last Challenger and Charger muscle cars to ever be produced alongside special limited-edition models.