Our RAM trucks are known for their raw power, impressive size, and awesome performance, but when it comes to cool factor, there's nothing quite like a Dodge. All around the world, Dodge's cars have become a symbol of cool – and this year's models are no different.
Today we are releasing our new 2023 AEC lineup of Dodge vehicles, which includes the last Challenger and Charger muscle cars to ever be produced alongside special limited-edition models and the high-performance SUV Dodge Durango. These iconic American cars will be available in Europe as early as mid-May, so let's get ready for the new product launch with a closer look at the new 2023 AEC lineup.
The End of An Era: Dodge Challenger Coupe and Charger Sedan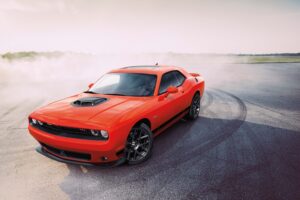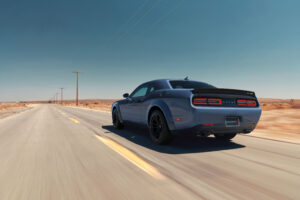 Dodge's muscle cars entered the automotive scene way back in 1966, instantly becoming automotive legends. For the past 5+ decades, the Challenger and Charger have ruled the streets – until now. This December, production of the current 3rd generation Challenger and 7th generation Charger will come to a halt, meaning 2023 is the last call to get your hands on one of these true icons.
Starting next month, we will bring back the Challenger SXT with 3.6L Pentastar V6 engine and AWD, the Challenger R/T with 5.7L Hemi V8 engine, the Challenger Scat Pack Widebody with 6.4L Hemi V8 engine, and the high-end performance models Challenger SRT Hellcat Jailbreak and Challenger SRT Hellcat Redeye Jailbreak featuring the legendary 6.2L Supercharged Hemi V8 for one last run. The classic Charger models will return with the Charger Scat Pack Widebody, the Charger SRT Hellcat Jailbreak, and the Charger SRT Hellcat Redeye Jailbreak, all with V8 engine.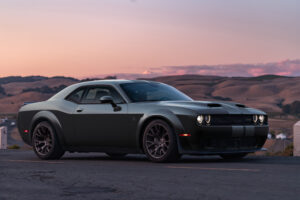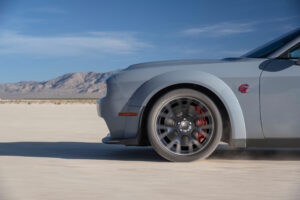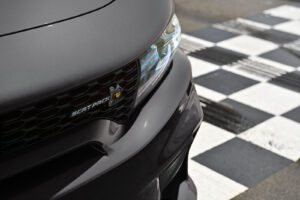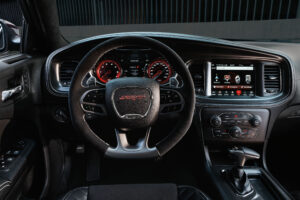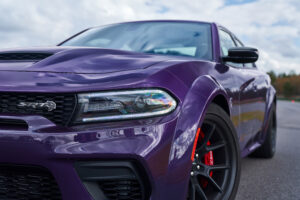 In honor of these cars' legendary status, all 2023 Charger and Challenger vehicles will feature a Last Call commemorative plaque in the engine bay, designating them the last Challenger and Charger units ever produced and the last to feature the 5.7L "345" Hemi, 6.4L "392" Hemi and 6.2L Supercharged "Hellcat" Hemi V8 options. If you've always wanted to drive one of these bad boys, now is your last call to make it happen!
Limited-Edition Models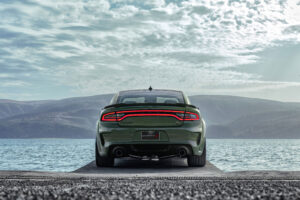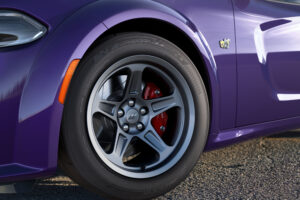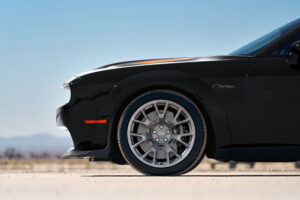 That's not all that's special this year: to celebrate over 50 years of Dodge Muscle, we're  offering five heritage-inspired Limited-Edition Models in 2023: Challenger Shakedown Widebody, Challenger Swinger Widebody, Charger Swinger Widebody, Charger Superbee, and Challenger Black Ghost. Our Limited-Edition Models feature specialized instrument panel badges, retro styling elements, and color themes reminiscent of some of the most memorable Dodge vehicles through the ages. AEC's Last Call Special Edition sales in Europe will kick off with the arrival of the Challenger Shakedown in Pitch Black this July. All special editions will only be available in extremely limited quantities in Europe, making these some of the rarest cars you can own.
AEC Dodge Durango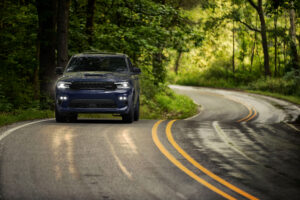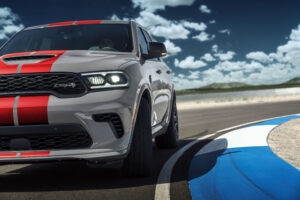 The Charger and Challenger may be entering their final production run, but we're just getting started: this year, AEC is bringing Dodge's Durango SRT Hellcat with 6.2L Supercharged Hellcat engine to Europe for the very first time! The SRT Hellcat is joined by the Durango's other trims R/T Premium, SRT Premium, and SRT Hellcat Premium, all of which are equipped with AWD, V8 engines, and significantly updated equipment. Just like you'd expect from a performance SUV like the Durango, all models feature improved comfort and updated technology, including state-of-the-art driver assistance and safety systems, high-end infotainment systems, leather upholstery, and refined interior finishes.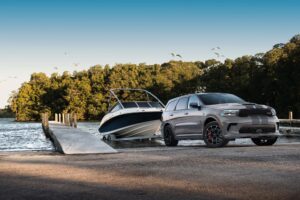 Whether you're looking for a piece of automotive history, a statement-making ride that few will ever get their hands on, or a performance SUV that's never been seen in Europe until now, AEC has you covered with our 2023 Dodge lineup. Our new range of Dodge vehicles will be ready to drive at one of AEC's 155+ dealers located all around Europe as soon as mid-May 2023. See just how impressive AEC's Dodge Charger really is or explore our recently-announced 2023 RAM lineup here.