Did you ever wonder how foreign vehicles come to Europe? Where do all those cars go to before they are delivered to the customers? How does it all work? AEC has all the expertise to answer those questions. Now we can do it better than ever before while being more sustainable in the process. 
AEC cars and trucks arrive by boat in the port of Antwerp. They are taken to our Vehicle Processing Center (VPC), where all the technical conversions are processed. Fun fact: This is also where you can find the largest European facility for applying underbody coating outside of OEM premises. After everything is installed, and the vehicles are prepared for the customers, they get delivered through our logistics department. 
Of course, all those operations need a central nerve center, where it all comes together. This is achieved by our colleagues in Kallo, right next to the port facilities. As the company keeps growing and growing, it was high time to find a new space for all the experts that ensure flawless proceedings. Our global team grew by almost 80 percent over the last year, and many of those new colleagues work in Kallo. This required lots of space. Nevertheless, it was also important to reduce our ecological footprint and be as sustainable as possible, so our goal was to find a zero-emission property for our new office. Now, we found one, and we are very happy to announce the opening of our newest facility – still in Kallo and just around the corner.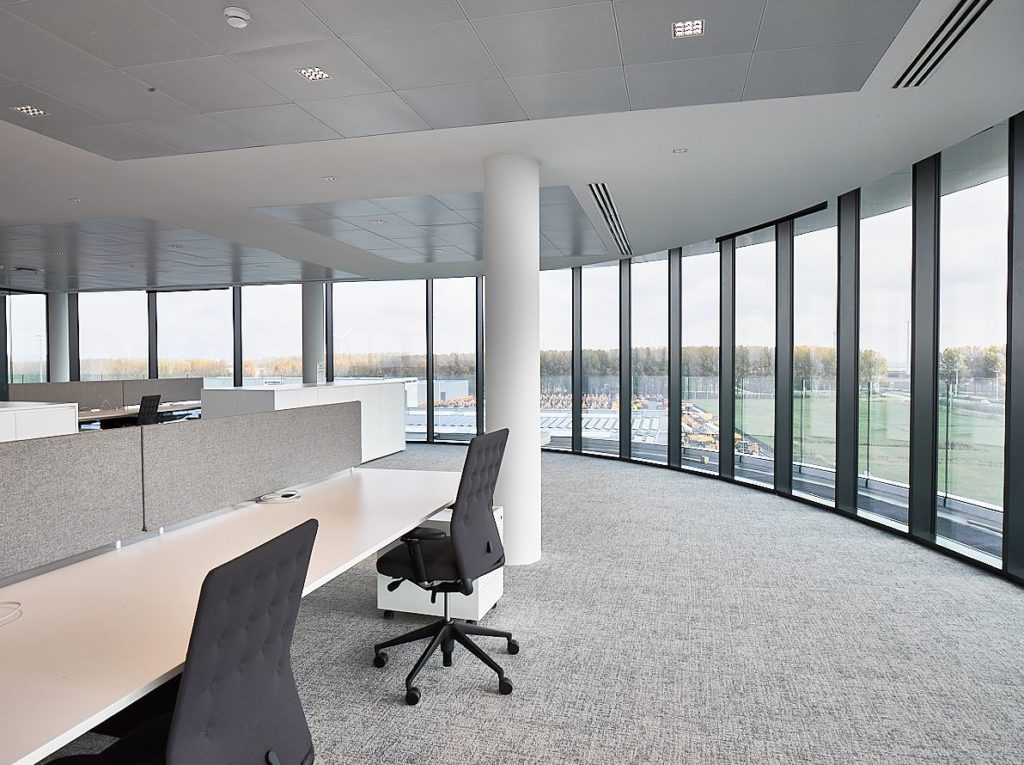 The new 700 sqm office uses Green Energy – a 5 MW windmill on the premises, currently in progress of permission, will cater to the future growing demand in the electrification of all vehicles and machines on site. The building is BREEAM certified, which stands for "Building Research Establishment Environmental Assessment Method." BREEAM is the oldest and most widely used certification system for sustainable construction. Its evaluation criteria include energy and water consumption, internal environment, pollution, transport, materials, waste, ecology, and management. The new AEC office also has 34 electric charging stations for cars, a software management system to monitor energy consumption and storage, a large-scale "used" battery for temporary green energy storage 1250 kWh by Zenobe Energy, and an emergency backup battery, replacing a diesel emergency generator.  
Our COO John Muratori says: 
 "Finding a sustainable building has been crucial in the process of moving our office into bigger premises. AEC as a company is driven by the goal to actively contribute to positive change, and we have started to drive these changes from within, driving innovation and sustainable choices with our employees, customers, and partners. We are ready for e-mobility and are kicking off our first projects in that space. After setting up our Munich office in a LEED Platinum Certified building in 2016, which is the highest possible rating on this sustainability scale, finding a new equal location for our second biggest office in Belgium was an obvious goal. We are looking forward to moving into the new building in September, as one of many steps and changes towards a more resourceful and sustainable future,"  
The best news is: If you like the sound of that, why don't you just join the crew? We are hiring! Visit us at www.aecsolutions.com/career and find a job that suits you best. If it's not there, contact us with your unsolicited application. We are always looking for highly skilled technicians and talents from all areas of business.