AEC and its European dealer network are helping to drive awareness for global health initiatives with RAM Limited Red Edition: A Stylish, Bold and Powerful Tribute to (RED)'s Cause.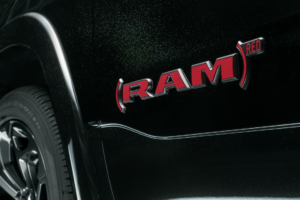 We are happy and proud to share that – as part of our AEC Corporate Social Responsibility (CSR) Program – the RAM Limited Red Edition has arrived! This special edition RAM 1500 Limited celebrates RAM's partnership with global health organization (RED), will now be available at AEC dealerships across Europe. A perfect blend of style and substance, the Ram Limited Red Edition brings awareness and attention to (RED)'s cause, supporting global health initiatives. The blacked-out exterior styling combined with the edition exclusive red (RAM) RED badges creates a slick and stylish appearance that is sure to turn heads. The 395 HP, 5.7L Hemi V8 engine with eTorque Mild-Hybrid-System ensures that the RAM Limited Red Edition delivers the RAM-typical exceptional driving experience. As limited-edition vehicle the RAM Limited Red Edition will certainly support its owners to leave a mark, driving for a cause. This very special RAM is available in Diamond Black, Granite Crystal, Billet Silver, Ivory White or Bright White exterior paint giving customers the flexibility to choose the color that best suits their personal style. If you're interested in owning one of these exclusive vehicles, be sure to contact your local dealer today.
We were lucky enough to present the first RAM Limited Red Edition as well as some official RED merchandise to drive awareness, at American Sunday, an event with 9,000 visitors in Assen, Netherlands on October 8 – the perfect stage for this amazing car and great global cause.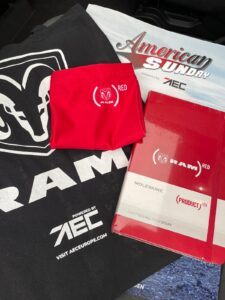 Founded by Bono & Bobby Shriver in 2006 to fight AIDS, (RED) partners with the world's most iconic brands and people to create products and experiences that raise money, heat and urgency for global health crises. Every action you take with (RED) saves lives. All money generated by (RED) goes to the Global Fund, one of the world's largest funders of global health. To date, (RED) has generated over $750 million for the Global Fund, helping more than 245 million people. (RED) funding supports life-saving programs that empower health workers and provide testing, treatment and care in places where injustice has enabled pandemics to thrive. (RED) partners include Anova Culinary, Apple, Balmain, Bank of America, Barefoot Dreams, Beats by Dr. Dre, Customcuff, Ember, Fiat, Girl Skateboards, Jeep, Lobos 1707, Louis Vuitton, Mavin Records, Okay Bears, Panasonic, RAM, The Ridge, Salesforce, Santander Asset Management, Starbucks, Veronica Beard and Vespa. (RED) supporters include IQVIA, Merck, Roche and ViiV Healthcare.