Since their inception, Dodge's RAM pickup trucks have been among the most popular pickups in the USA and here in Europe. Along the way, RAM's vehicles have transformed from simple trucks to muscle or even luxury trucks as well. After the first-ever Dodge RAM model in 1981, the American brand has produced many amazing pickups. In honor of AEC's 2023 RAM model launch, we're taking a look at the Top 10 RAM pickups of all time.
1. RAM D150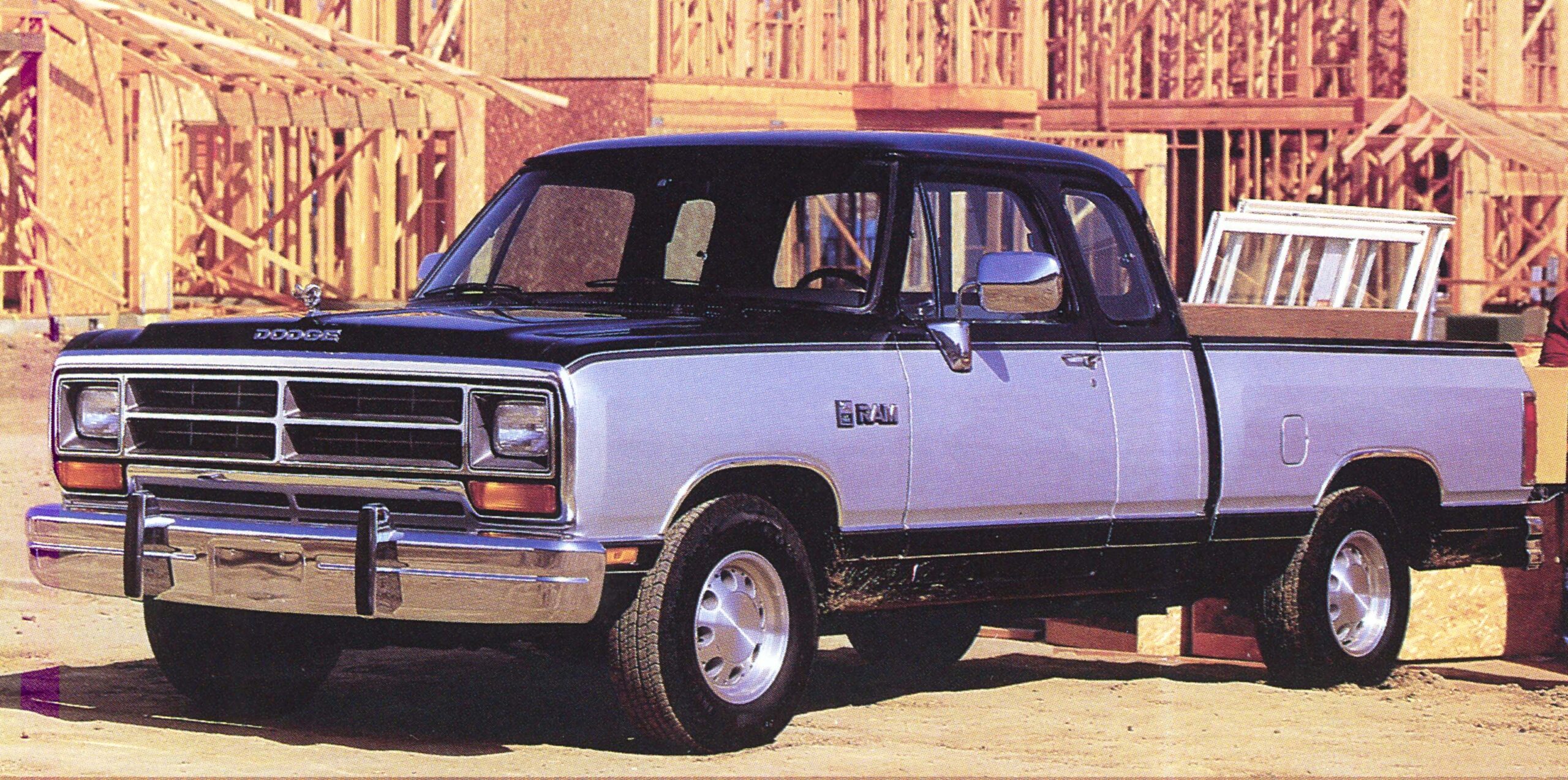 RAM's D150 pickup, equipped with a limited slip differential and bench seat, is a mixture of a farm vehicle and a masculine truck. This pickup is typical of the 1980s and '90s with a square, boxy shape and a rough, masculine appearance. The D150 was great for hauling and farm work on the ranch, but it was also a pleasure to sit in and guaranteed to put a smile on its owner's face. It's hard to beat a modified 360 ci / 5.9L Police-Engine-V8 with 225 horsepower!
2. Dodge Power Wagon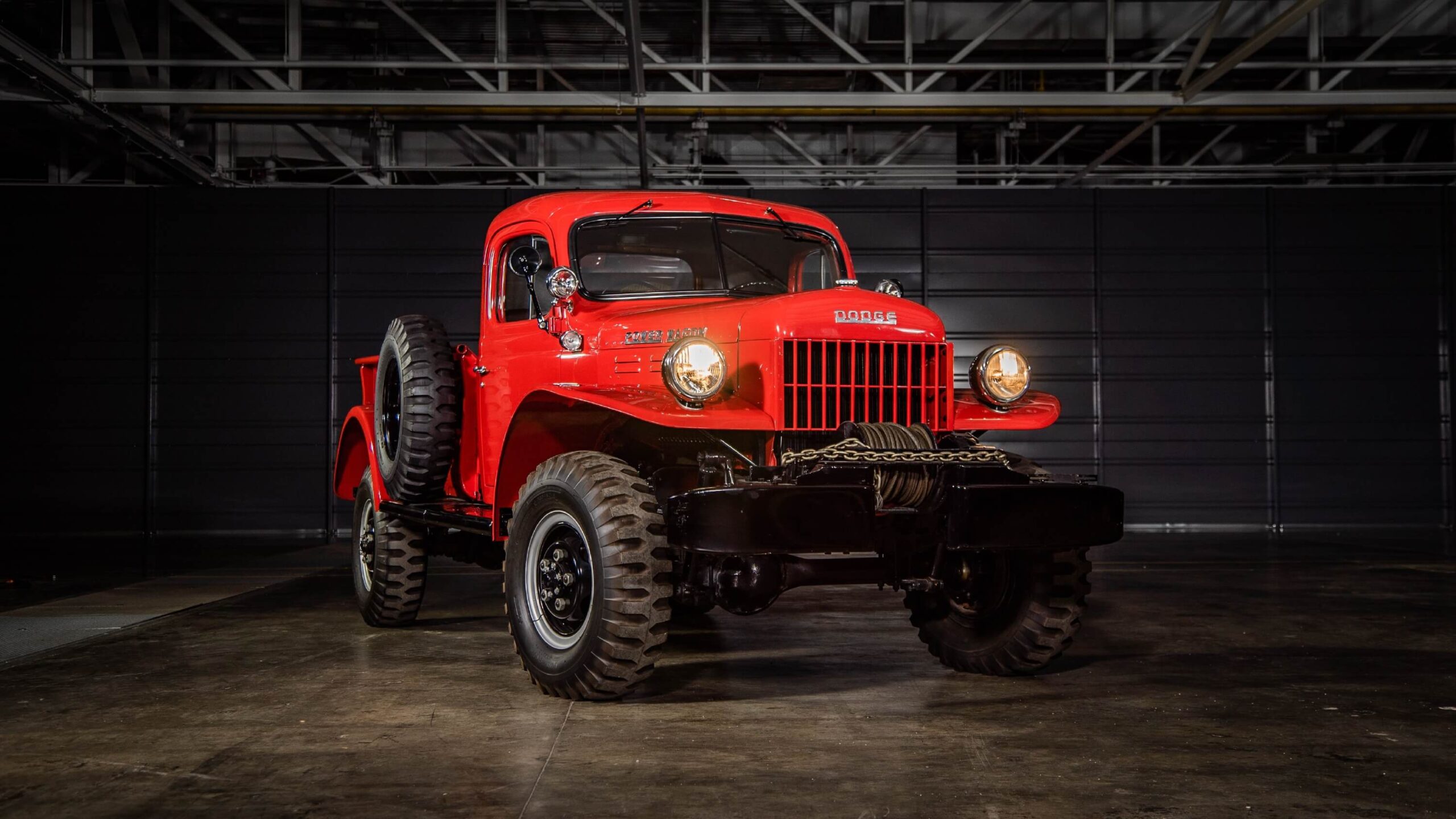 The four-wheel drive Dodge Power Wagon was first introduced in 1945. Dodge had been building trucks with four-wheel-drive since the 1930s, but it was only in the post-war period that these became interesting. The Power Wagon is a traction and transport vehicle built for forestry and livestock use in the period following its use in the U.S. Air Force during World War II. Most models featured inline six-cylinder engines, with modern V8s coming in the early 1960s. Thanks to the four-speed manual transmission with two-speed four-wheel-drive transfer case, the Power Wagon was an absolute machine that could handle any terrain.
3. RAM SRT-10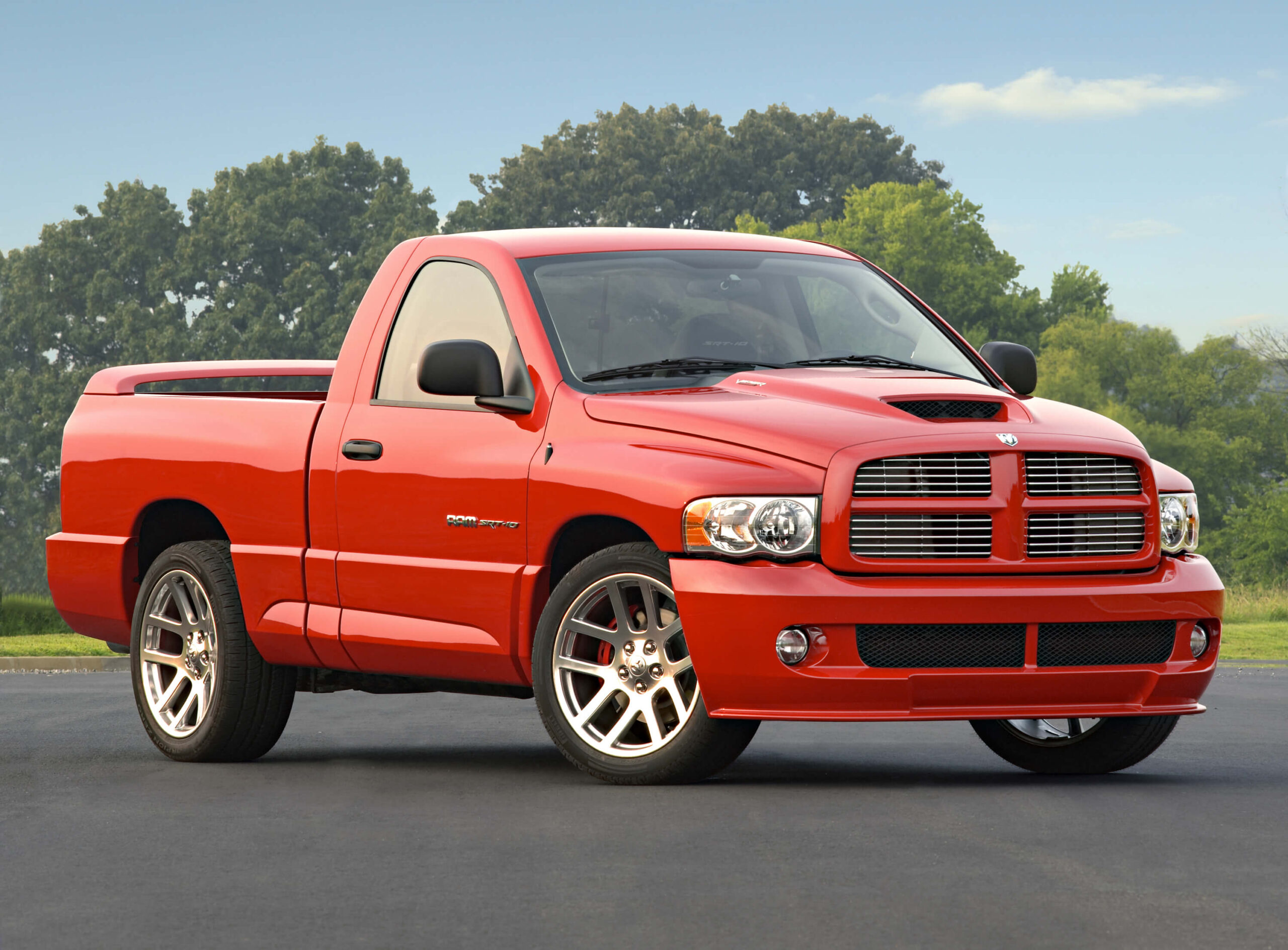 The title of the ultimate performance pickup of all time goes to the Dodge RAM SRT-10. With its 8.3L V10 engine from the Dodge Viper supercar, the SRT-10 was a lightweight pickup featuring a Short Bed and Regular Cab in its first version, and later a Crew Cab. Nextel Cup Rookie of the Year contender Brendan Gaughan averaged 154.587 mph over two counter-rotating "flying miles," setting a Guinness World Record for the fastest-ever production pickup truck.
4. Li'l Red Express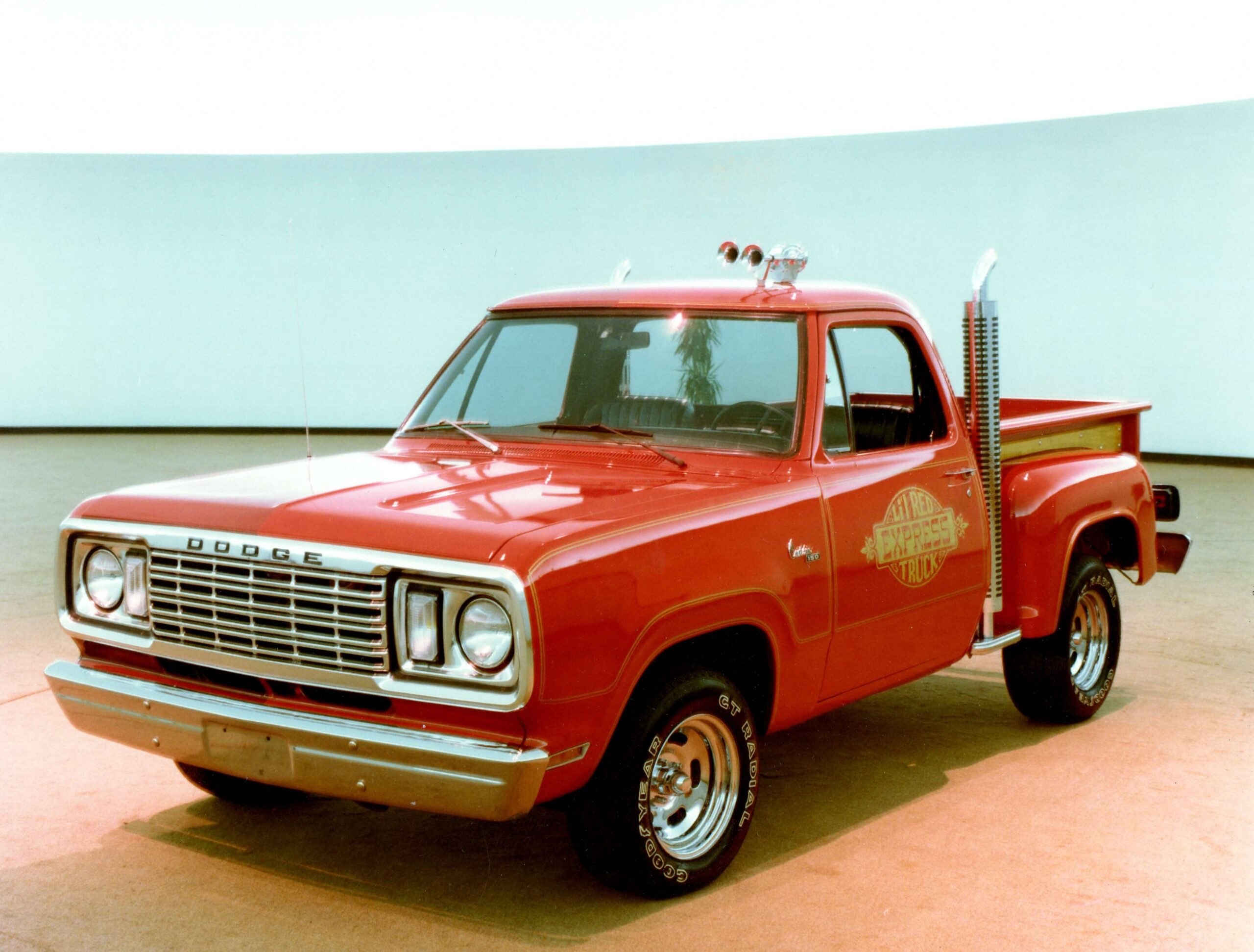 Dodge surprised most American car fans in 1978 when it launched its Li'l Red Express pickup truck. The Lil' Red Express was not just visually eye-catching – in 1978, it was the fastest American-made vehicle from 0 to 60 mph, achieving quarter-mile times in the 15-second range as tested by Car and Driver magazine. A special High Performance 360 ci / 5.9L small block engine produced 225 horsepower at 3,800 rpm. The package also included Hemi-style mufflers with a crossover pipe vented through two chrome high pipes in "big-rig" style exhaust tips vertically behind the cab. Based on the Adventurer package, the Lil' Red Express was finished in sporty 'Canyon Red' and had gold pinstriping decals on the doors and tailgate. The pickup rolled on Goodyear tires with white lettering on Western Chrome wheels. Finally, the Lil' Red Express was finished with chrome side running boards, oak side body panels and tailgate.
5. 2021 RAM 1500 TRX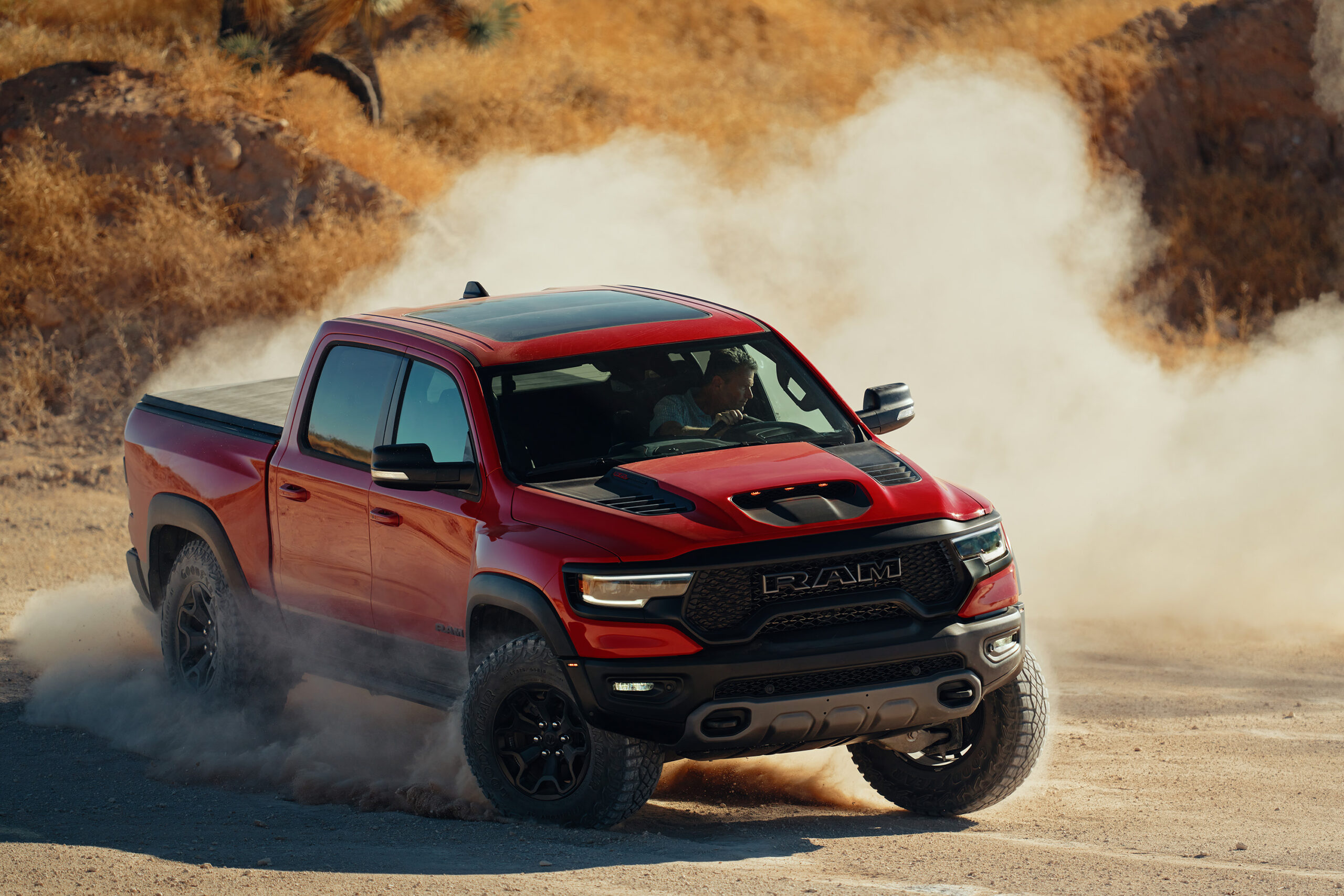 The 2021 TRX expanded the light-duty lineup and set the standard for pickups with extreme performance. The RAM 1500 TRX is powered by the supercharged 6.2L "Hellcat" Hemi-V8 engine with 702 horsepower, and that is enough for a top speed of 118 miles per hour (190 km/h). New fenders widen the body and provide room for exclusive 18-inch wheels wrapped in specially designed 35-inch Goodyear Wrangler All-Terrain tires. This combination, coupled with a brand-new suspension and tuning geared toward fast desert racing, offers even more options on the street or in the desert.
6. Dodge M880 CUCV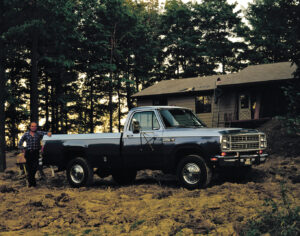 Short for Commercial Utility Cargo Vehicle, the CUCV was a pretty solid work vehicle used by the military everywhere in the 1970s, 80s and 90s. Built with a stock 318 ci / 5.2L V8 and Torqueflite four-wheel drive, these vehicles (called W200 by fans in Europe) were popular with everyone because the M880s were simple and easy to fix. The one powerful V8 engine produced a solid 225 horsepower, a third more than the civilian versions of the D200. To that end, the CUCV was rated for 1 1/4 tons, making it a real truck.
7. Dodge RAM Daytona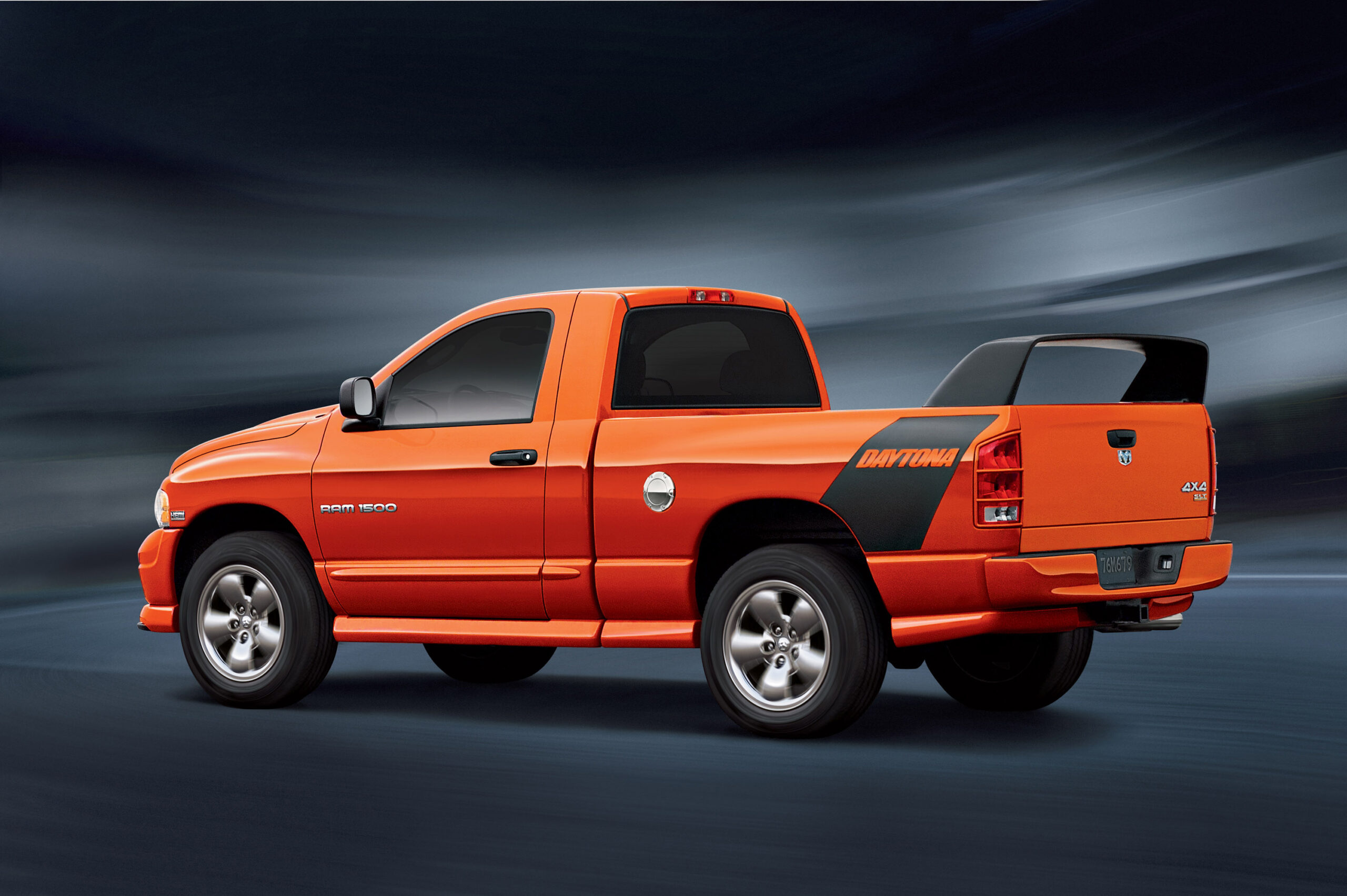 The 2005 Dodge RAM Daytona has been a legend for years, as the Daytona pickup came with an 11-inch rear spoiler, analogous to the 1969 Dodge Charger Daytona, the very first NASCAR car to reach speeds of 200 miles per hour. The Daytona pickup was only available in two special paint schemes, "Go Mango" or "Silver Metallic," plus the limited-edition truck received special graphics, a sporty hood and 20-inch chrome wheels. The Daytona, available with a regular cab or quad cab, was powered by the popular 5.7L Hemi engine that produced 345 horsepower and a five-speed automatic transmission.
8. 2021 RAM Power Wagon 2500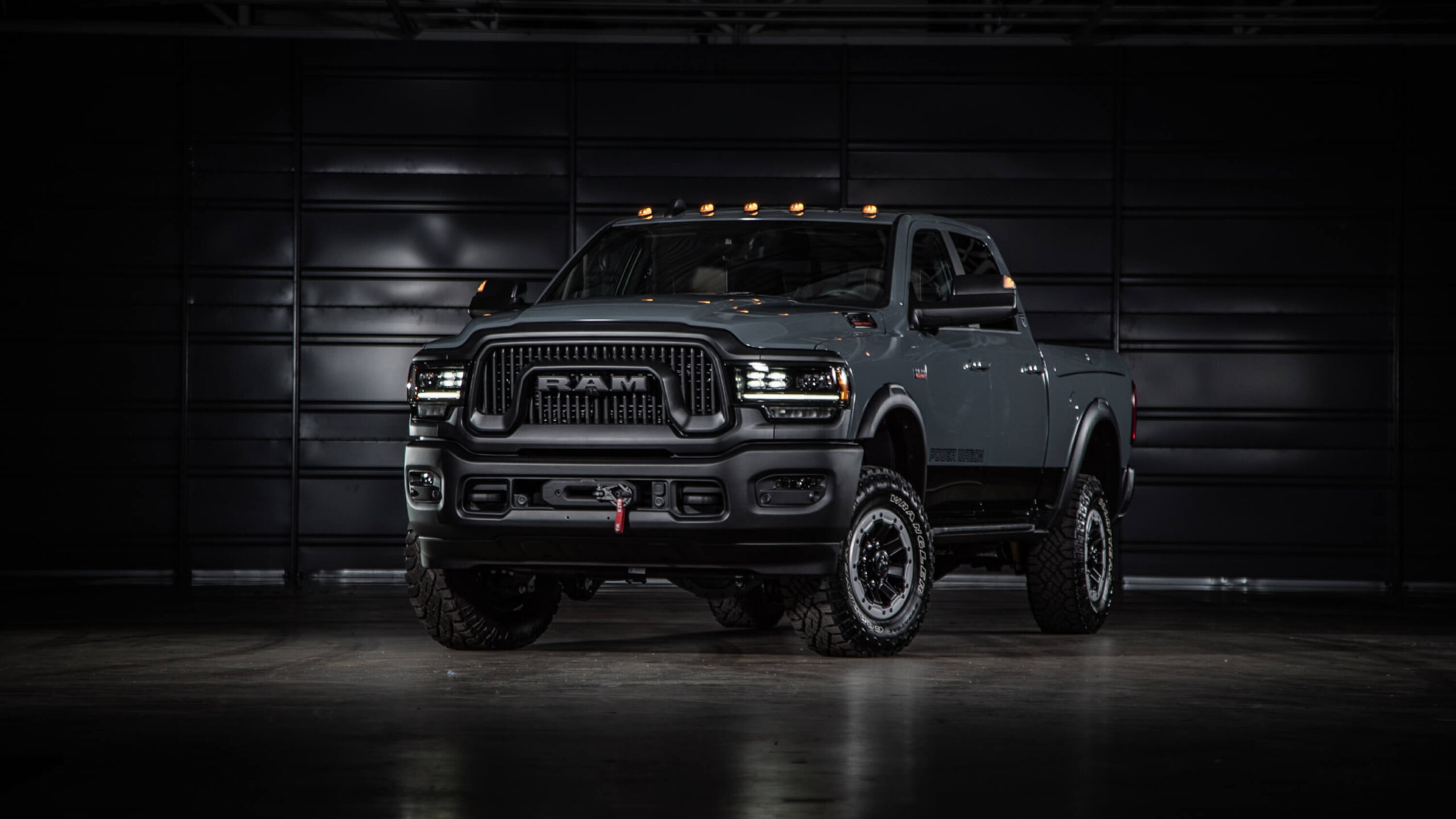 RAM's Power Wagon 2500 is reminiscent of the badass power wagons of yesteryear. To celebrate the 75th anniversary of the legendary Power Wagon, RAM produced a Special Edition of the pickup truck on big wheels with wicked looks, a classy interior and even more off-road talent. The special model comes with a 416 horsepower, 6.4L V8 with an eight-speed automatic transmission and can be identified by its grille with vertical struts. Logos on the doors read "Power Wagon 75 Years of Service." Off-road extras include a 5.5-ton winch 17-inch rims with 33-inch tires.
9. Dodge RAM Rumble Bee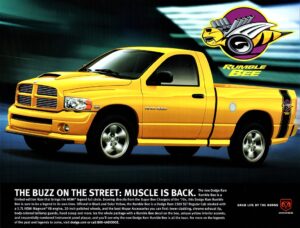 The 2004/05 Dodge RAM Rumble Bee was a purely visual package for the 1500 SLT Regular pickups with normal cab and short bed. The Rumble Bee name was based on the 1968-1971 Dodge Super Bee muscle car with bumblebee stripes. The pickup came exclusively in black or "Solar Yellow" with the distinctive "Rumble Bee" styling stripes, air scoop and sill package, 20-inch wheels, and was built in limited numbers. About ten years later, in 2013, there was a concept of the same name, but it did not go into production, making this muscle truck a valuable collector's item.
10. RAM 1500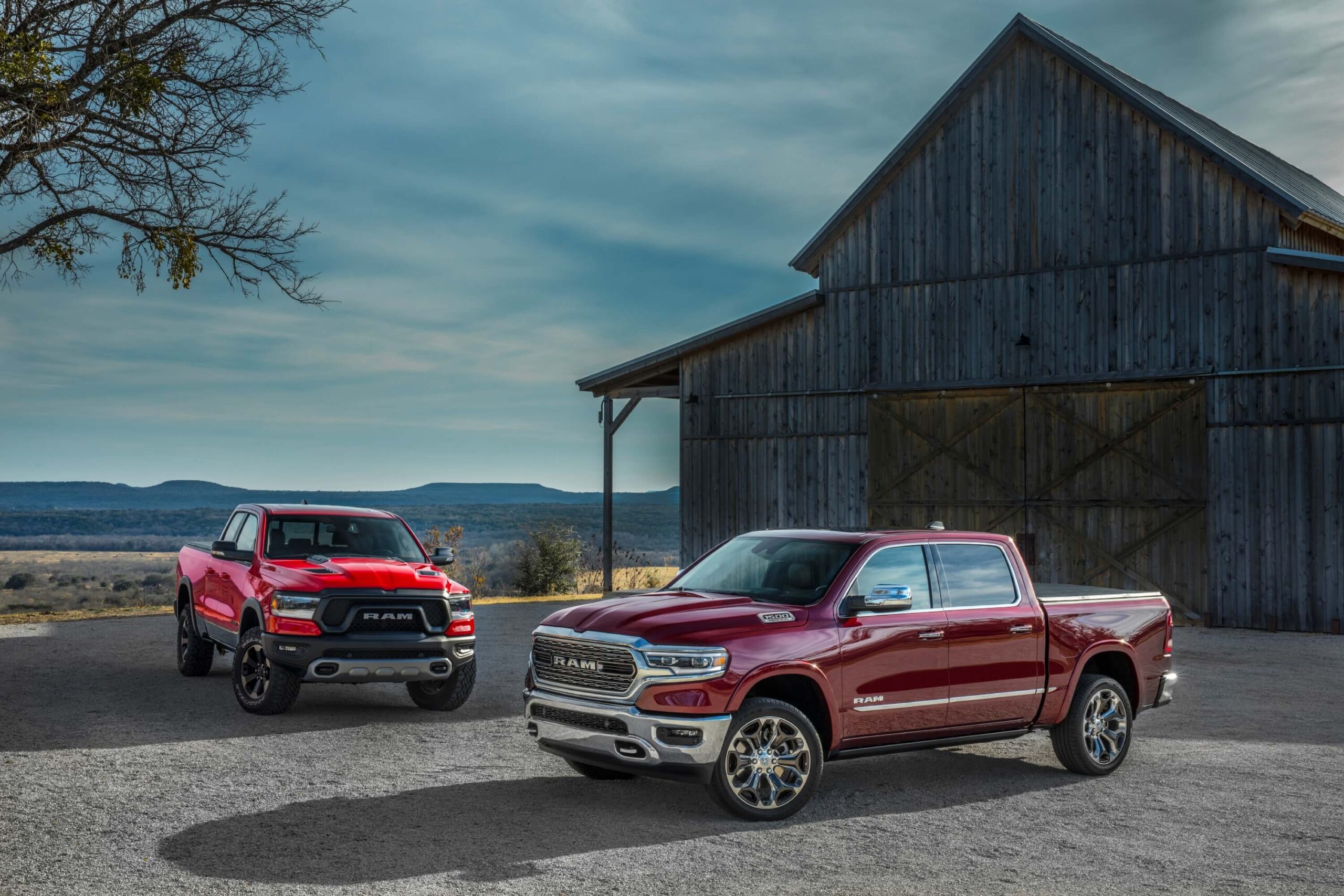 There it is, everyone's favorite RAM pickup truck! The current RAM 1500 is an immensely popular and successful truck that has been around for years. It's got both attitude and presence on the road, and offers a variety of trim options and numerous trim levels, from Limited to Longhorn, Laramie, Rebel and Big Horn to Tradesman. Numerous special editions such as Elite Edition, Night Edition and Built to Serve Edition provide even more choices. The 1500 is available with a 5.7L Hemi V8 engine producing 395 horsepower and a modern eight-speed automatic transmission. The 1500 offers plenty of interior space in the four-door Crew Cab cabin, a 19-speaker sound system and a 12-inch touchscreen mounted vertically. And with the TRX, RAM's 1500 shines as a performance truck on and off the road with a 6.2L V8 and 702 horsepower – which is your favorite?
Take a look at our full 2023 RAM lineup to find out how you can get your hands on one of these iconic trucks with AEC.