Since its humble beginnings back in 1996, AEC has had its headquarters in St. Catharines, Canada, where it all began. In the last 27 years, we've grown to a team of 225+ employees working in seven different locations and facilities around the world. Having offices in various international locations means our teams are split across time zones, come from more than 50 countries, and speak more than 20 different languages in their day-to-day lives, despite the fact that our official company language is English.
One of the ways we make sure our team feels and stays connected with one another is by enabling colleagues to travel between our offices across Europe and AEC's headquarters in Canada and work with the team there on certain occasions. For some of the AEC colleagues, traveling between offices is a regular occurrence of course: CEO Andrew Pilsworth and COO John Muratori can be seen in any of our locations throughout the year for customer meetings and events, and to check in with the local teams. We were interested in hearing about our team's experiences traveling between AEC's offices, so we asked a few of our colleagues working in Human Resources, Finance, Corporate Communications, and Project Management – let's see what they had to say!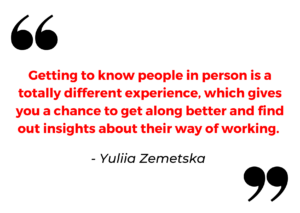 One of the greatest benefits of traveling between AEC's offices and facilities is the ability to strengthen relationships. When your team is spread out over multiple locations, many of the social aspects happen online, for example through coffee chats and team meetings, but the many opportunities of face-to-face workday encounters which speed up forming bonds, like in person team lunches or happy hours, are lost. Being able to meet colleagues in person who you've only emailed or had conference calls with can strongly improve your relationship and understanding of who they are, provide new insight into how someone works on a daily basis, and even make you more comfortable working together.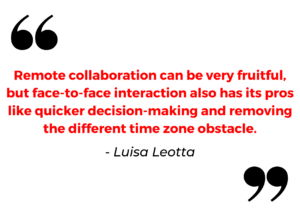 Today, technology plays a huge role in our day-to-day, both at work and at home. Tools like Zoom for video calls, the comment function in shared documents, or apps like Teams or Slack for inter-office communication have made it possible for companies to collaborate well remotely, but there of course are tangible benefits to in-person communication. For one thing, communication simply goes faster when everyone is in the same room, meaning decisions can be met much quicker. This is especially true when colleagues are usually working from different time zones. Potential problems, follow-up questions, and even conflicts can also be dealt with much faster when they can be immediately addressed. Finally, in some cases it is significantly more efficient to be present on the ground versus tuning in remotely, like when members of our IT and Project Management teams fly into Belgium to implement a new system and train people on the ground.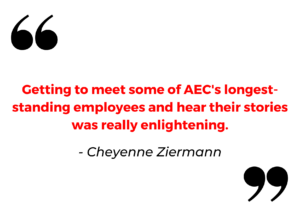 Finally, it's important to recognize that each one of AEC's offices and facilities is a bit different – and that's great! The different energies, backgrounds, and daily routines of each of our local teams contribute to AEC's overall company culture and foster our diverse spirit. Visiting another one of our offices is a great way for our colleagues to learn a bit more about AEC's history, organizational structure, diversity, and who we are as a team.

See what else our team loves about AEC's multicultural environment here and explore our open positions here.