What do you get when you combine a father-daughter duo, a 700hp beast, and some off-road fun? An #AEC #TRX adventure that you don't want to miss!
Watch Richard Hammond and his daughter take the #AEC #RAM #TRX for a spin in this new video from our partner #Drivetribe.
YouTube – Richard Hammond takes his daughter off-roading in his 700hp truck
The RAM TRX is the most powerful and capable pickup truck ever built. Thanks to its supercharged 6.2L Hemi V8 engine, delivering 702hp and up to 882 NM of torque to all 4 wheels, and a Baja Offroad Racing suspension, it can handle any terrain with ease and speed. It's not just a truck, it's a legend.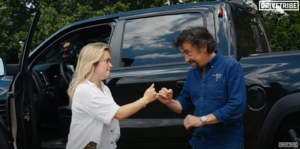 If you are interested in getting your own #RAM legend here in Europe, visit AECEurope – Official Importer of RAM and Dodge Vehicles in Europe to learn more about the features, specifications, and availability of this ultimate performance truck. #AEC is the official importer of RAM Trucks in Europe and offers a full range of services and support.