A new line of AEC services just made its debut under the name of AEC Academy. On November 22 and 23, a delegation of AEC Dodge & RAM dealers came to Munich and enjoyed their first AEC Academy training.
We at AEC often talk about how important our large dealership network is to us. All around the globe, more than 550 retail partners are selling our products. More than 150 of them offer a full-service Dodge and RAM brand experience. They don't just sell our vehicles, but they are also ambassadors to our end customers, representing AEC's expertise every day.
This is part of the concept of AEC Academy. We are in the process of creating a training portfolio covering every aspect of the modern automotive retail business. We don't stop at promoting roomy trunks and metallic paint jobs, but also educate salespeople in the special needs of fleet customers, working with car-sharing companies, or Parts and Accessories solutions. Additionally, there will be training for After Sales departments, tech workshops, and more specific product training. In short: With AEC Academy, we offer a platform to instruct our retail partners on the many facets of our solutions portfolio.
Hosted in the exclusive setting of Munich's famous Motorworld classic car exhibition center, we invited the first sales representatives of AEC Dodge and RAM dealerships from Germany. Knowing the familiar atmosphere of AEC events, some of our partners showed up in person, while some owners sent representatives to get a personal insight into our philosophy. The event was opened by our International Sales Director Mike Tsesmelis and Head of Dealer Network Development, Mario Lucchesi. Under the skilled lead of our independent, certified product trainer, Ralf Faigle, the participants enjoyed an entirely new perspective on the art of automotive retail. Of course, all COVID-related safety measures were taken. In addition to exclusive personal workshops, we will also offer a series of webinars, covering single and more specific topics.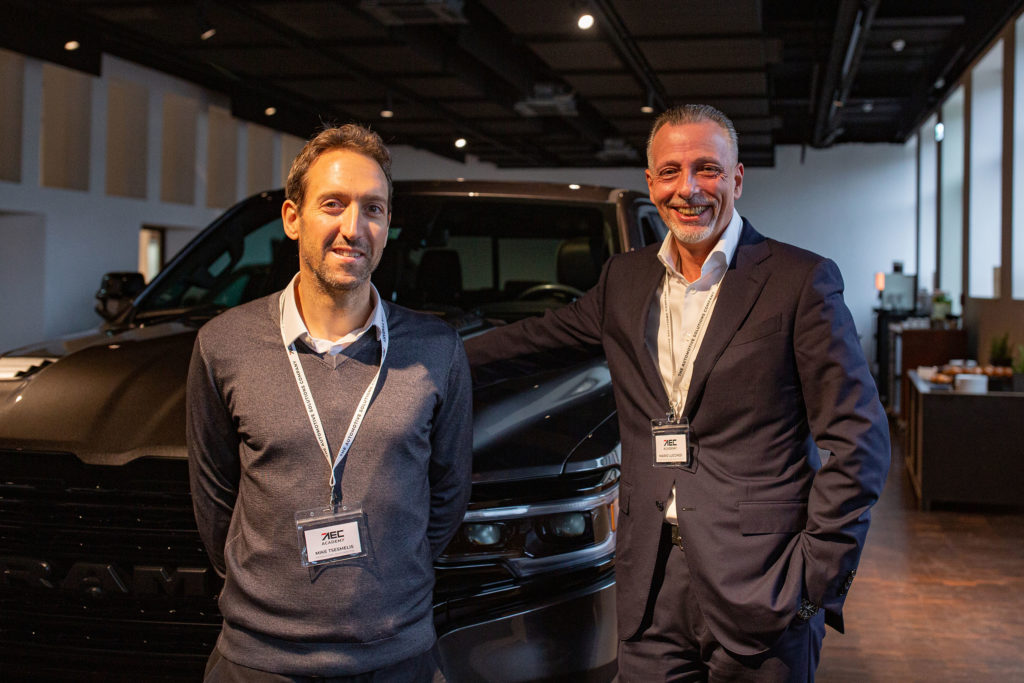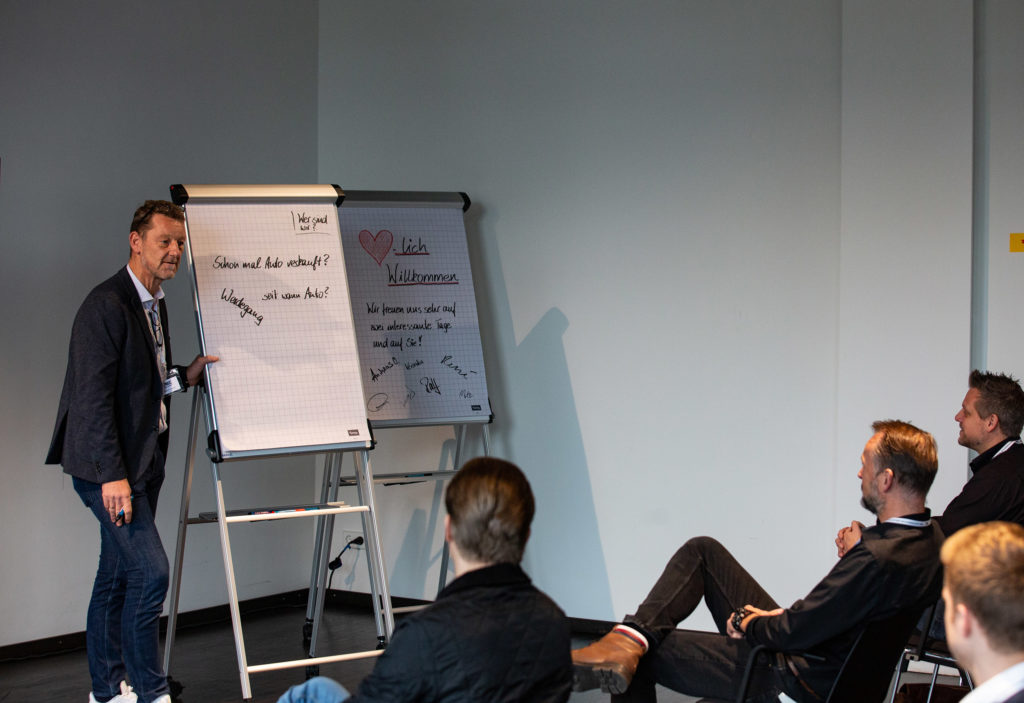 From the beginning, we focused on the fact that we don't just advertise the strengths of our products and hope for the best, but rather approach our customers, analyze their needs, and lead them through a trustful tailormade sales experience. Instead of heralding a single product, we embrace the fact that we offer highly flexible options for every customer – no matter the budget or the intended kind of mobility. An enthusiast who desires to lease a muscle car or a business owner who opts for a pickup truck they can keep for a lifetime may be two completely different customers. Both should experience the same commitment and expertise, which will ultimately lead to complete customer satisfaction.
As an automotive solutions provider, we always strive to achieve these goals in close collaboration with our retail partners. They will be among the first to learn of upcoming additions to our service portfolio that will further facilitate the sales business. Don't worry; we'll post them on the blog too!
With its open concept of using a lot of space and an interactive approach, the participants quickly learned about new insights and shared their experience and know-how with each other.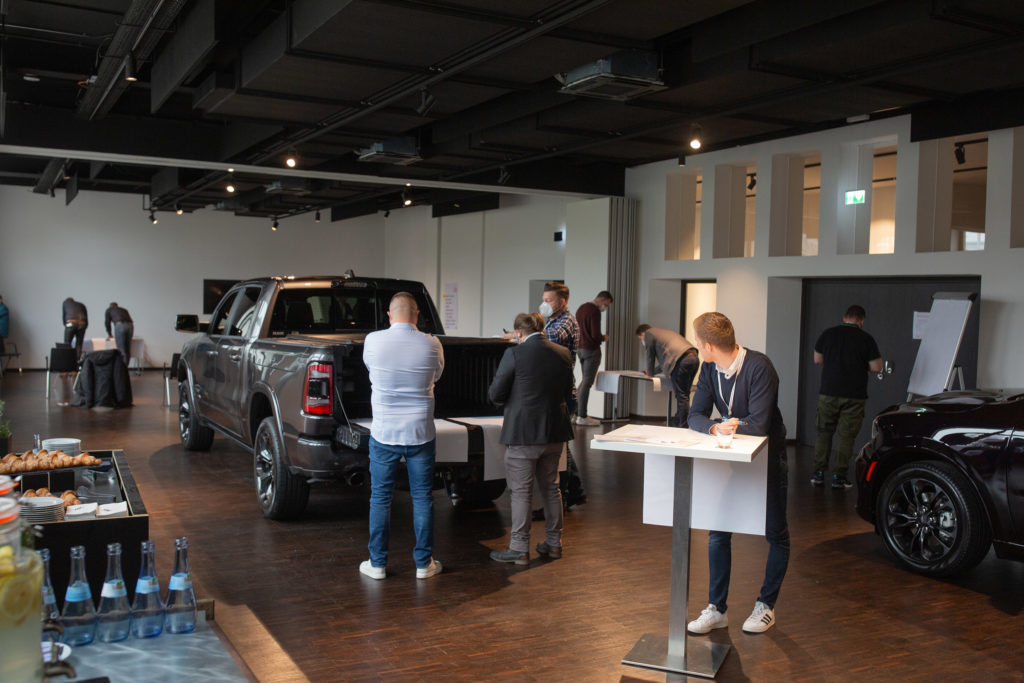 "It can't be mentioned often enough: We're not just an importer of a specific car brand, but a solutions provider that caters to the needs of many different customers. In this concept, our dealers play a crucial part and need to be just as flexible as we are. That requires close collaboration, much transparency, flexibility, and the reassurance that we can make anything happen. We provide this environment and create this special experience for the end-consumer, and we want to convey that to our partners in the best way possible. The new format of AEC Academy brings all of this together under one label. I'm happy to say that it was a great success!"
comments Mario Lucchesi, Head of Dealer Network Development International at AEC.
Some of the dealership representatives that were present over the last two days have been working with us for more than a decade. They enjoyed the new format, just like the newly connected retail partners, for whom it was their first AEC event.
Daniel Gorny, Director of Autohaus Gorny in Eislingen, Germany, said: "It was a great experience to take part in AEC's first Academy workshop – not only because I learned new things, but also because there was a lot of interactive exchange with dealers from other areas."
We will have many more AEC Academy sessions in the future, using different locations and focusing on different market areas. If you like to take part or consider joining the AEC dealership network, please contact us at info@aecsolutions.com.