As the summer draws to a close, we're wrapping up the 2023 season with Red Bull's KTM Factory Motocross. Last year, we joined the teams during the 2022 season, where we provided some of AEC's powerful RAM 1500 trucks to help support the riders with lugging equipment, crossing rough terrain, and offering some unforgettable test drives to the team, crew, and fans alike!
After last year's success, we knew we couldn't miss out on another fun summer adventure. Between March and July of this year, our team accompanied the riders around Europe with several RAM trucks for the FIM Motocross World Championship.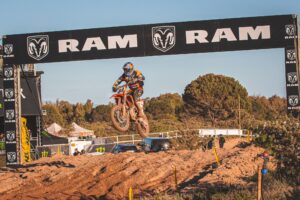 March 24-26: MXGP in MXGP in Riola Sardo, Italy
April 28-30: MXGP in Agueda, Portugal
May 5-7: MXGP in Xanadú – Arroyomolinos (Madrid), Spain
May 19-21: MXGP in Villars sous Ecots, France
June 10-11: MXGP in Teutschenthal, Germany 
June 15-16: MXGP in Loket, Czech Republic 
July 22-23: MXGP in Lommel, Belgium
It was an exciting season with AEC's RAM 1500 models at center-stage throughout the track, which fans were be able to see live and up front: in action off-roading on the racetrack, carrying heavy motocross equipment, and up close in a lively test drive with Tony Cairoli.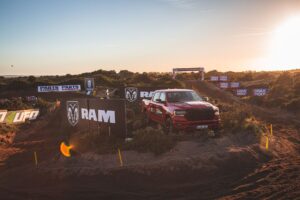 The RAM 1500 trucks present at the 2023 MXGP races, like the 6.2L TRX 5.7L Laramie Sport and Night, and all new to Europe, the 3.6L Big Horn, are an exceptional blend of power, versatility and capability offering unmatched performance on and off road, which makes it the ideal partner for KTM's teams. With their powerful engine options and spacious cabins RAM trucks provide a driving experience that exceeds expectations. We not only got the chance to show off our trucks, meet fans and enjoy the races, we also had the honor to host an autograph session at our booth with KTM drivers Liam Everts, Andrea Adamo, and Sacha Coenen. 
If you are interested in RAM Pickups but you are not sure which one is the right fit for you, check out our lineup here: AEC launches 2023 RAM lineup throughout Europe with new exclusive models like the TRX Havoc, TRX Sandblast, and Laramie Night.