The name "pickup" derives, unsurprisingly, from "to pick up." And indeed, a pickup truck can carry a lot on the loading area even while the vehicle's occupants enjoy the comfort of a normal passenger car. North America has long viewed pickups both as trucks and as lifestyle cruisers, but today there are more and more fans in Europe as well. 
The top dog among pickup trucks is, of course, the RAM. Big, powerful, and about as American as it gets, the RAM pickup was established as a stand-alone brand in 2009 with a full line of trucks consisting of RAM 1500, 2500/3500 Heavy Duty, 3500/4500/5500 Chassis Cab and ProMaster. The full-size pickup truck named Ram originally entered the U.S. market in 1981 under the Dodge brand, who had used the Ram symbol since 1933.
Most pickup trucks available in Europe are mid-size models with a much more compact length than their American relatives, but bigger, more robust pickups are becoming more popular as an everyday vehicle and cheaper SUV replacement in Europe, too. Throughout Europe, pickup fans are beginning to realize just how versatile the vehicles can be and are moving towards larger models like the RAM 1500 – and that's where AEC comes in.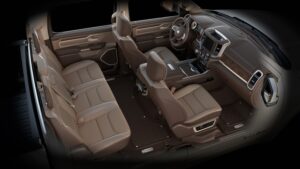 AEC currently offers the RAM 1500 in Europe in eight different models, ranging from the Big Horn and Laramie, Limited and Longhorn to the Rebel and TRX. In Europe, the RAM 1500 pickup is powered by a 5.7-liter Hemi V8 with 395 hp and 557 Nm or, in the TRX version, by a 6.2-liter Hemi V8 with a 702 hp and 882 Nm. Power is always transmitted by an eight-speed automatic and to all four wheels. Thanks to our partnership with Yakima, we're able to hook you up with all kinds of parts and accessories for your pickup, whether you're looking for rack and storage systems or carriers for bikes, kayaks, and snowboards. That makes our RAM the perfect vehicle for both the commercial and private sectors. 
Craftsmen, like roofers for example, as well as farmers, gardeners, and landscapers love RAM pickups because they offer the comfort and luxury of a car and – thanks to the robust loading area – the utility of a truck. Pickups with all-wheel drive also don't need paved roads and feel at home on forest tracks, meadows, and fields. The stable loading area is suitable for transporting all kinds of heavy and large equipment, ranging from ladders, rolls of roofing felt and wooden slats to cement sacks and mortar barrels to lawn mowers, hedge trimmers, edgers and chain saws.
Athletes have also discovered their love for pickup trucks. Whether water sports enthusiasts, bikers or horse lovers, the RAM performs well both as a transporter and as a towing vehicle for boats or horse trailers. Camping enthusiasts can easily hit the mountains with tents, sleeping bags, and food securely stored in the truck bed. And so, the pickup, which is used for work during the week, serves as an independent vacation and travel vehicle on weekends or during vacations simply by adding a roof tent or detachable living cabin.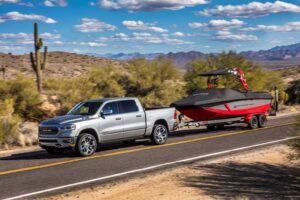 Thanks to AEC, pickup fans in Europe don't have to compromise on power, size, comfort and handling. Simply find an AEC dealer near you to get connected with one of our partners, who will match you with the perfect RAM and accompanying parts and accessories. Even fuel costs are no longer of concern, as AEC's expert Homologations Team will equip your RAM with an Liquified Petroleum Gas (LPG) system, so that operating costs remain within manageable limits. LPG is not only cheaper but also more environmentally friendly than conventional fuel; since it is an otherwise unused byproduct of petrol production, LPG Rams are not creating any additional demand for fuel production, but they run on something which would otherwise go to waste. Also, according to a Shell study from 2015, approximately 12.5 percent less CO2 emissions are emitted than a comparable gasoline model. 
It's no wonder that pickups, and RAM trucks in particular, are growing more popular in Europe by the minute, especially when you can get one at your fingertips so easily with AEC. Read on to see how you can make the most of your RAM, for work or play, with premium Yakima accessories.