Nowadays you see them everywhere, both in the country and in the city: SUVs. Those who used to drive station wagons or vans remember the days when SUVs were the exception and were mainly used for off-road driving. Today, however, SUVs have become mainstream, as drivers appreciate their higher seating position and increased carrying capacity – but does an SUV always make sense in Europe? Let's look at why a RAM actually is the better choice.
Form and Function
Utility or comfort – can you really have both? Many people still hold on to the usual prejudices about pickups: they're utility vehicles without much comfort that can't hold a candle to a luxurious, comfortable SUV. Pickups are just work tools, after all. AEC's RAM 1500 proves these outdated stereotypes all wrong.
Sure, once upon a time pickups were indeed pure farm animals. It was all about covering the longest possible distance with as much cargo as possible – comfort was not on the agenda.
In the last few decades, times have changed and so have customers' demands. With more than enough space for five people and an enormously high utility value, the RAM 1500 is vastly superior in capability even to full-size SUVs. Plus there's no need to compromise on ride comfort: the RAM truck includes all the standard conveniences of modern vehicles, such as heated seats and steering wheel, leather seats, a navigation system, a rearview camera, specially tuned dampers, and even more.
That's why RAMs are preferred by people for way more than just professional use: from surfers who need to lug around a surfboard to avid hikers who need to get their camping gear into the mountains, from motocross riders to a family of four heading for a skiing weekend, the RAM provides both capability and comfortability.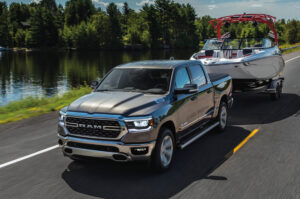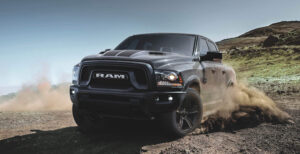 Styles to Suit Everyone's Taste
With our RAM 1500, there's truly something for everyone: different versions of the pickup offer equipment and accessories for your individual taste. There are six models alone for the 1500: Big Horn, Rebel, Laramie, Longhorn, Limited and TRX. In addition, there are two RAM 1500 Classic Models, SLT and Warlock, which allow entry into the world of pickups at extra favorable conditions. The Classic allows consumers to enter at a lower price point, without compromising on any of the utility. Of course, for all fans of performance, the RAM 1500 TRX is the one you don't want to miss, with a mind-blowing 711 hp thanks to its 6.2-liter supercharged V8 engine – something you may be familiar with from AEC's Dodge Hellcat.
Fuel-Saving Engines + LPG
You may be asking yourself: what about the consumption topic? You're not alone! Another common misconception is that large pickups consume a lot of fuel. Modern HEMI engines, however, now feature cylinder deactivation, which temporarily cuts off the fuel supply to four of the eight cylinders in part-load operation resulting in considerably lower consumption values. Plus, AEC offers LPG gas tanks in every RAM we sell, which is better for the environment, your driving range, and your wallet. LPG is currently around 40 percent cheaper than conventional gasoline. At the end of the day, when comparing the RAM's consumption figures with those of a classic SUV featuring all-wheel drive and a four-cylinder engine, you'll see that a RAM 1500 can even undercut the cost per 100 kilometers.
More Bang for Your Buck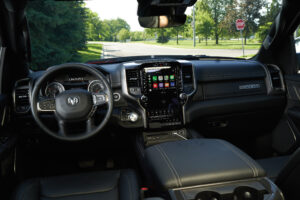 That brings us to perhaps the most important question: cost. Another familiar argument against the pickup is its allegedly high price, as well as high follow-up costs like maintenance and servicing. While we have already dealt with (and debunked) the issue of consumption price, let's also take a closer look at purchase price, which is incredibly relevant for potential buyers. It's widely accepted to equate big pickups with big prices, while SUVs are often offered for remarkably low prices – or more commonly, low lease rates.
So, what does a pickup actually cost? Using a RAM 1500 Laramie Sport as an example, we'll start at a retail price of €63,800 without VAT. Maintenance is no longer a challenge either. AEC's Dealer Network includes about 155 official RAM partners throughout Europe, who of course also take care of the maintenance of your RAM and can support with additional accessories and parts at attractive prices.
What Are You Waiting For?
Taking all those factors into account, one thing is clear: a RAM beats out an SUV every time! Yes, SUVs have their own strengths and will definitely continue to remain an integral part of the modern vehicle landscape, but pickups offer way more than just the "American way of driving." If you're looking for enormously high utility value with a level of equipment and driving comfort that cannot be rivaled, a RAM 1500 is the way to go.
Did you know that we have recently announced our new 2023 RAM lineup? Check out our biggest variety of trucks yet, from treasured favorites to updated classics and specialty models.