After many months of planning, coordinating with our technicians, and behind-the-scenes troubleshooting from our IT Team, our Vehicle Processing Center (VPC) in Kallo, near Antwerp went completely digital last month! The introduction of our custom AEC VPC App allows our technicians to go totally paperless by taking all of their standard activities onto new mobile iPad devices. That means no more paper work orders or laborious transferring of data manually from a slip to a computer. Now, our technicians can get to what really matters much faster: homologating our vehicles.
"The introduction of our new app has a ton of behind-the-scenes benefits that many people may not realize," explained Lilantha Karunaratne, Director of IT at AEC. "Getting our technicians to work paperless enabled our operations team access to accurate data without needing to read handwriting or account for errors during data entry. For the technicians, their work has become much more efficient, as they can receive work instructions and access user guides as needed – even in different languages. And that's only the beginning: our team built the VPC App from the ground-up and integrated it to our main system, so the expansions of the app are limitless. We are able to digitalize the homologation process and make changes to any of the technical processes in real-time."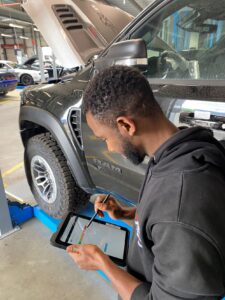 When you think of the VPC, you're probably picturing a large garage and workshop full of spare parts, shiny new cars, and technicians in neon vests and safety helmets working on an engine or installing new headlights, and that certainly is true. However, a lot of time is also spent working with paper: reading written orders and requests, uploading progress reports by hand into a computer, and transferring written data from the VPC to our offices. By switching to our app, all the paper that is used for VIN identification, status updates, and work order adjustments is saved – and these tasks can all be done in real time on the app from the VPC. As a result, our technicians can spend more time on the cars. 
"I'm really excited about the transition we are making through the adoption of new technologies. We have seen a lot of growth at our VPC in the past weeks and months. In the last quarter alone, we welcomed more than 20 new Technicians. The transition to paperless workstreams using the VPC App ensures that while we grow, we do so efficiently. It also means we support our technicians by eliminating unnecessary barriers and allowing them to focus on maximizing output from our VPC. This has already resulted in significant gains in production capacity, allowing us to overachieve our quarterly output target!" shared AEC's COO, John R F Muratori. 
Our new VPC App isn't the only technical advance we've made internally: last year, we partnered with SAP and conesprit to develop a tailor-made solution to improve the services to our customers and offer quicker and more economical deliveries. Read more about our partnership with SAP and how it has supported our growth here.