"The constant possibilities for growth and improvement as well as the presence of different cultures lay the foundations for AEC's exciting work environment."
Join us to learn about our colleague, John (Shazhou)'s story, how his journey at AEC began, how he grew in the company, and what changes occurred during the years he's worked with us. The colleagues featured in our blog series #GrowingTogether have experienced AEC's global expansion firsthand and journey on with us throughout the years. Read on to learn more about John's story at AEC.
How long have you been with AEC? 
I have been part of the AEC team for 8 years. Time really does fly!
Where did you originally begin, and what is your position now?
My journey at AEC has been an exciting one with many possibilities for growth and gaining more and more responsibilities. I started back in 2015 as an Accounting Assistant and now, eight years later, my position is Order Management & Inventory Specialist. I'm in charge of vehicle orders and the management of our inventory systems.
What do you look forward to most when you come to work each day?
What I look forward the most is meeting new people and talking to my colleagues from all over the world. Working with a lot of different nationalities helps you see challenges from different perspectives, the exchange of ideas and the melting pot of different cultures is always very insightful. These are the characteristics that make AEC's work environment exciting and stimulating.
Tell us about a highlight you had during your time so far with AEC. 
One of the highlights for me is the sales team calling me "Legend". Besides having this awesome nickname, it makes me feel appreciated for the work I do, and I see it as a sign of respect.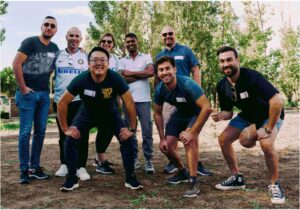 Why would you recommend others to join AEC? 
Easy! The constant growth of the company as well as the people in the team. I've seen how AEC has expanded significantly in less than a decade and has become a truly global automobile solution provider.
What brought you to AEC 8 years ago?
I first learned about AEC through an intriguing recruitment ad in my university's career pages and applied straight away. At AEC we have a vibrant mix of young people straight from university, as well as experienced people from the automotive industry as well as many other industries and areas. This is a great and inspiring combination!
AEC has grown a lot in 27 years, from a small office in Canada to an international player with multiple locations around the world. How has AEC changed and developed while you have been working here?
One clear change for me is that the team in St. Catharines has tripled in size. We used to be only a handful of people in the accounting team working mostly locally, and by now the team has grown exponentially thanks to many colleagues joining us and creating a global team. This growth is notable in the business as well, the number of orders I make has increased tenfold over the years! Last but least, we have moved to a modern and spacious office in Canada.
Interested to read more insights and stories long-standing employees have to share? Check out Christophe's journey at AEC in our previous #GrowingTogether blog post.